The internet has revolutionized the way we do business. Today, you can start a business in Nigeria and market it globally.
Likewise, you can sell products and offer services online and reach a worldwide audience. That's truly amazing!
What's better than amazing is that you can do that without the headache of starting your own business from scratch.
It's possible through what is known as affiliate marketing. Yes, affiliate marketing!
Affiliate marketing is quickly becoming one of the most effective and realistic ways to make money online in Nigeria—and for good reason.
According to Mhojhos Research, the affiliate marketing sector is expected to be worth $17 billion in 2019. Over $13 billion more than in 2016.
Plus, the affiliate marketing sector was supposed to be worth $12 billion by 2022, but it has expanded far more quickly than anticipated.
Aside from the fact that this model pays really well, it's also easy and not that expensive to start. That's if you're moved by making a lot of money with little effort.
So today, Olajide and I will explain what affiliate marketing is, how it works, how beginners can earn money with it, and what commission models are available.
And, of course, introduce you into the world of Nigeria affiliate marketing, and show you the best affiliate program in Nigeria you can join right now to get started.
We'll also answer the age-old question: "Can you make a living from affiliate marketing in Nigeria?" Let's dive in.
What is Affiliate Marketing?
In most of our interactions with would-be affiliate marketers, we get asked these questions a lot: What is affiliate marketing, and how does it work?
This is why it is a good introduction to explaining this popular source of income to beginners. If you've been dealing with affiliate marketing for a long time, we're sure a lot of the jargon is clear to you already.
But people who come across affiliate marketing for the first time are often overwhelmed by the many marketing terms and want to know the basics instead of the expert tips you often come across online.
So, fasten your seatbelt, we're about to take you on a jolly good ride to cover the basics in the sections below.
Definition: Affiliate marketing is an arrangement by which an online retailer pays commission to a third party (Individual or company) for traffic or sales generated from its referrals. It's often referred to as an affiliate program in Nigeria.
In simple terms, affiliate marketing is an internet-based commission system.
Basically, companies or people who sell products or services online, for example, pay a certain commission to people who "send" visitors to their online store, when they buy something or take an action.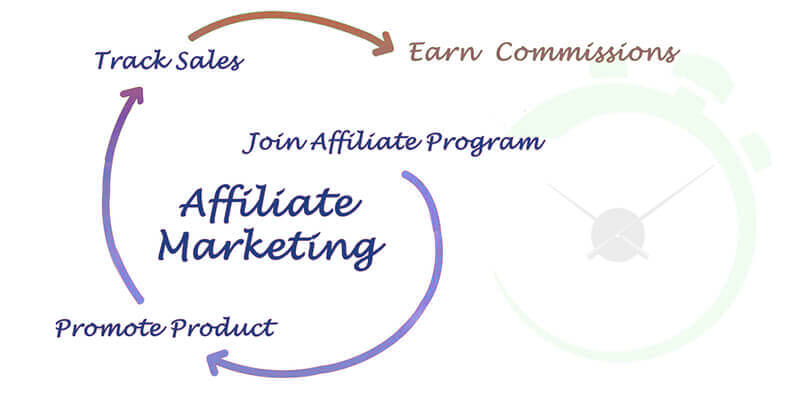 For example, Jumia is one of many affiliate marketing sites that pay in Nigeria, and it offers its own lucrative partner program to hundreds of other online shops and Internetpreneurs called Jumia KOL.
So, if you are wondering which affiliate marketing is best in Nigeria, like Jumia, there are other best affiliate programs in Nigeria. We'll dive into them properly.
In contrast to normal banner advertising, the payment of affiliate marketers is dependent on the publisher's success.
As a website (also known as an affiliate, partner or publisher), you only get a commission if the referred user does something specific on the company website. i.e. goes shopping or enters their email address.
For example, I can get 1,000 visitors to my website to click on an affiliate link (this can of course also be an advertising banner with a corresponding affiliate link).
Now, if you don't buy anything in the online shop you clicked on, I'll earn zero naira or dollars (the default payout currency).
But if I manage to get 10 people to click on an affiliate link and 5 of them buy something or take a specific action, then I get a commission.
In affiliate marketing, it is not just a question of quantity but also of quality. You've got to put in the work to earn.
Types of Affilaite Marketing
Like any concept or system, there are different types of Affilaite marketing you can get started on depending on your interest.
However, we advise that you choose whichever one soothes your niche site purpose.
Although you can choose any, what matters is how you create great content and insert your Affilaite links to meet your audience's interest.
Without much ado, there are three major types of Affiliate marketing styles you can choose from. They are:
Involved Affiliate Marketing
This type of affiliate marketing is one whereby the Affilaite has a personal experience or story of consuming the product or having enjoyed the services being promoted.
It's one that is built on trust, credibility, and authenticity. It is the best form of Affilaite marketing if building relationships with your audience is at the heart of your business goal.
Additionally, it's a form of Affilaite marketing that sustains good business relationships because it's based on how you as an Affilaite have influenced your audience.
Related Affiliate Marketing
In this form of affiliate marketing, the affiliate promotes products and services that meet their site niche's interest, but that they've not used.
Affiliate under this category simply promotes products or services that are closely related to their site goal or purpose.
For example, Mr. A, a website owner, promotes another company's web plugging, which he himself does not use.
Essentially, this is common among affiliates today. But it's one that comes with risks. Promoting a bad Affilaite link can mar your credibility.
Unattached Affiliate Marketing
This affilaite marketing involves the promotion of products or services that you have no interest in or authority in the niche.
Basically, your marketing or promotion strategy is dependent on pay-per-click advertising campaigns to generate sales through your affilaite links.
This type of affiliate marketing is the most common among marketers around the world. Many Affiliate promote products and services they don't use, know much about, or have interest in.
For many marketers, it's all about the commission they stand to gain from promoting the company's product or services.
Why You Should Start Affiliate Marketing in Nigeria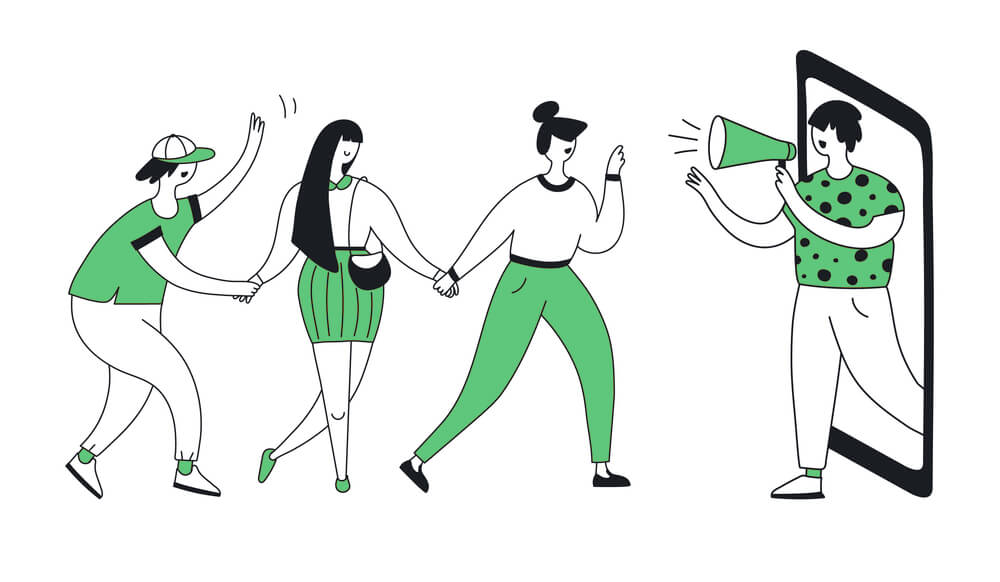 Affiliate marketing is a good business model for a number of reasons. You will get paid for selling something that you like. This means that you can make money just by making your audience happy.
Interestingly, most affiliate marketers in Nigeria make a lot of money. They earn a decent amount of money by using the affiliate marketing business model. Affiliate marketing is a very good business model.
There are many reasons why it is good. Let us look at a few of them.
First, affiliate marketing works on a commission basis. This means that the affiliates will get paid for bringing their audience to a certain website.
Second, you can make more money by using the affiliate marketing business model. The more audience or leads that you bring to a certain website, the more money you can earn. This makes affiliate marketing a good business model for you.
Third, the ROI (putting out links on your preferred platforms) is astronomical. You can make more money with affiliate marketing than you would with any other business.
Fourth, you can work from home and avoid the hassles of working for a boss. Speaking of remote work, where you can earn as a freelancer.
Interestingly, there are advantages for both the merchant (or vendor) and the partner (also known as an affiliate). The vendor only has to pay a commission to the affiliate if sales have been achieved.
So, if the affiliate makes an effort and sends a lot of visitors from his website to the online shop, he usually gets a lot of commissions and thus makes good money.
As a result, the vendor makes more sales and thus more profit. The affiliate also earns good money, and the referred customer buys the product that solves their problem.
This is a win-win-win situation, and everyone involved benefits. That's why you can make very good money with affiliate marketing in Nigeria. Try it today.
How To Start Affiliate Marketing In Nigeria
We can rightly presume that the next question on your mind is, how do I start affiliate marketing in Nigeria? Don't worry, we've got you covered.
But first, there are many different kinds of affiliate programs in Nigeria. You can join one of them, depending on what you like and what you want to do.
You can start with a very simple business and add complexity as you get more experience. Although, we will suggest you start with the best paying affiliate program in Nigeria.
While some affiliate programs have a commission percentage that is fixed. Other affiliate programs have a percentage of sales or leads.
A percentage of sales will depend on how the business does. Many affiliate programs have a minimum sale amount to get a commission.
The commission percentage is usually not high in these programs. However, most affiliate programs in Nigeria pay per click. This commission is usually higher than other programs.
We know the hype internet influencers give to affiliate marketing (mostly because they want to sell something). But the beginning is not so easy, and you usually need perseverance and consistency to make good money with it.
Above all, it is important that you really start today and not tomorrow!
We always recommend that our readers simply create content, whether that's a website, podcast, blog, or other platform.
To be successful in an affiliate marketing program, you first need to build an audience and gain the trust of your visitors.
And the fastest way to achieve this is to create a blog in a well-established niche.
But aside from creating contents, there are other factors that will determine whether you will be successful with affiliate marketing or not.
If you are a beginner, you need to consider the following to become a successful affiliate in Nigeria;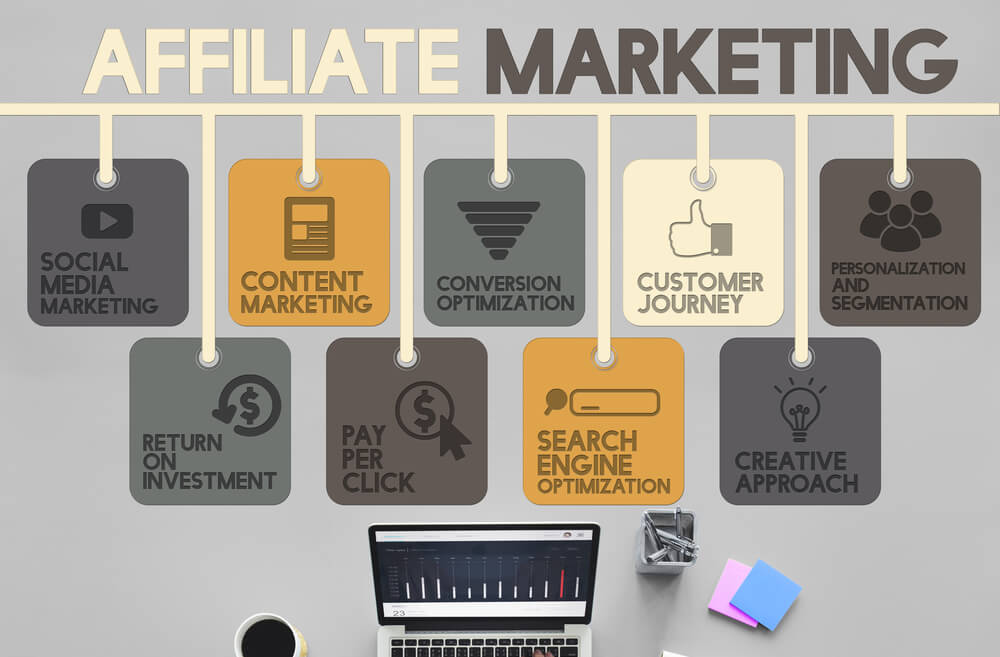 Find a Profitable Niche
To get started with the best affiliate program in Nigeria, you need to first find a profitable niche that soothes you.
To do that, go to the affiliate program website of your choice and read the Terms and Conditions. These will tell you about the program, including the commission percentage.
Most affiliate programs will tell you how much they pay for a sale and how much you will earn. In addition, the affiliate program will provide you with the commission percentage.
The next thing you need to consider is your interest and passion. For example, if you are interested in sports, you can create an affiliate program for sports merchandise. Or, if you are interested in health, you can create an affiliate program for exercise equipment.
Perhaps, if you are interested in technology, you can create an affiliate program for computer software and create an affiliate marketing blog around that interest.
Essentially, you need to first choose an interest and find a profitable niche that aligns with it.
Use Your Personal Network
Another important factor that determines the amount of money you will make in affiliate marketing in Nigeria or anywhere, is the scope of your own reach.
That is the number of people (audience, leads, or customers) you can reach with your own articles, videos, newsletter emails and so on.
The more people you reach with your content, the higher the potential number of people who click on your affiliate links and then buy something.
Once they take your desired action, you will earn as an affiliate. Can you see why starting right now is a good idea?
Choose a Good Affiliate Program
One other thing to have in mind is that you need to choose a good affiliate marketing program. If you desire to earn.
A good affiliate program will provide you with more commissions when you refer customers to it. It will also pay you more money than most affiliate programs.
The best paying affiliate programs in Nigeria, or anywhere else, will have a high commission percentage.
However, you need to first determine the best affiliate program in Nigeria to know their commission percentage.
You can use the following tips to find out which affiliate programs pay more:
• Compare the commissions for different affiliate programs.
• Try to find affiliate programs that have low product prices.
• Consider joining an affiliate program that has a free trial.
• You should look for affiliate programs that offer various products to choose from.
Affiliate marketing programs can be very lucrative for people who know how to market them.
There are many affiliate programs in Nigeria that you can join. You should do your research to find out which ones are most suitable for your needs.
Some of the best affiliate programs pay a high commission rate. The rate of commissions can be as much as 50% or even more.
You should also look into the payout policies before you decide which affiliate programs to join.
The payout rates can vary from 10% to 90% of your referrals. It is a good idea to join a program that pays more than you can expect to receive on average.
The affiliate programs you include on your own website must of course match your visitors, their wishes, needs and problems.
It probably makes little sense to advertise a sewing machine on a football website. Always align the product(s) or service(s) you market with your business goal.
Decide On a Traffic Source
Traffic is an important factor when it comes to making money online. It determines how much you make, the speed with which you earn money, and how long it takes you to earn money.
You need traffic for your affiliate marketing business. There are many sources of traffic.
Some of the best sources are search engines like Google.com and Bing. You can also use social media websites like Facebook and Twitter.
The more traffic you can generate from these sources, the better your sales will be.
When you are thinking about what kind of traffic source will work best for you, remember that you should first decide whether you want a paid or free traffic source.
You should consider how you will pay for the traffic source, as well.
If you decide to use a paid traffic source, it means that you will pay a fee to have a website linked to your affiliate link.
This may seem like a good idea, but it isn't if you are just starting out. You have to spend money on creating a website, and you have to invest time in advertising.
All of this may not yield the results you desire. But you need to be consistent and dogged.
A good option is to use a free traffic source. With an unpaid traffic source, you are not paying anything to get traffic. And the best free traffic source I know is social media.
If you use social media, you can connect with lots of people who are interested in learning about new products or services.
If you have lots of followers on Instagram or Twitter, you can share information about your affiliate marketing business with them.
Other traffic sources include web directories and article directories. These sources can be very useful, but they can be time-consuming.
A web directory is a website that includes links to other websites. And you can get paid for every click that someone makes on one of your links.
Build Trust with Your Content
One of the important elements in the process of mastering your game as an effective affiliate marketer is your ability to build trust among your audience.
There are tons of ways you can do that. But what's important is yiur ability to turn them into leads that will take your desired action.
Whether these visitors then click on an affiliate link and, above all, buys something depends heavily on the trust you have built up.
It is therefore very important that you come across as authentic yourself. You can do that by being honest with your content.
Describe your own experiences, publish helpful content, and appear trustworthy. Only then will you get a lot of affiliate link clicks and sales. Value should always come first!
Optimize Your Content for SEO
Simply adding a few affiliate links and banners is not enough. As an affiliate, you have to test a lot and optimize your affiliate links and your content.
You need to optimize your website for SEO. SEO has changed the online marketing world, with how to answer consumers queries at the top of marketers minds.
To rank high on search engines top page, it's important you have good knowledge of how to optimise your content and site for SEO.
You can simply do these by doing image compression to improve site speed, and so on.
The goal of affiliate marketing is to get the content to those that need it with the hope of making sales. Only then will you make good money with affiliate marketing.
Affiliate Commission Models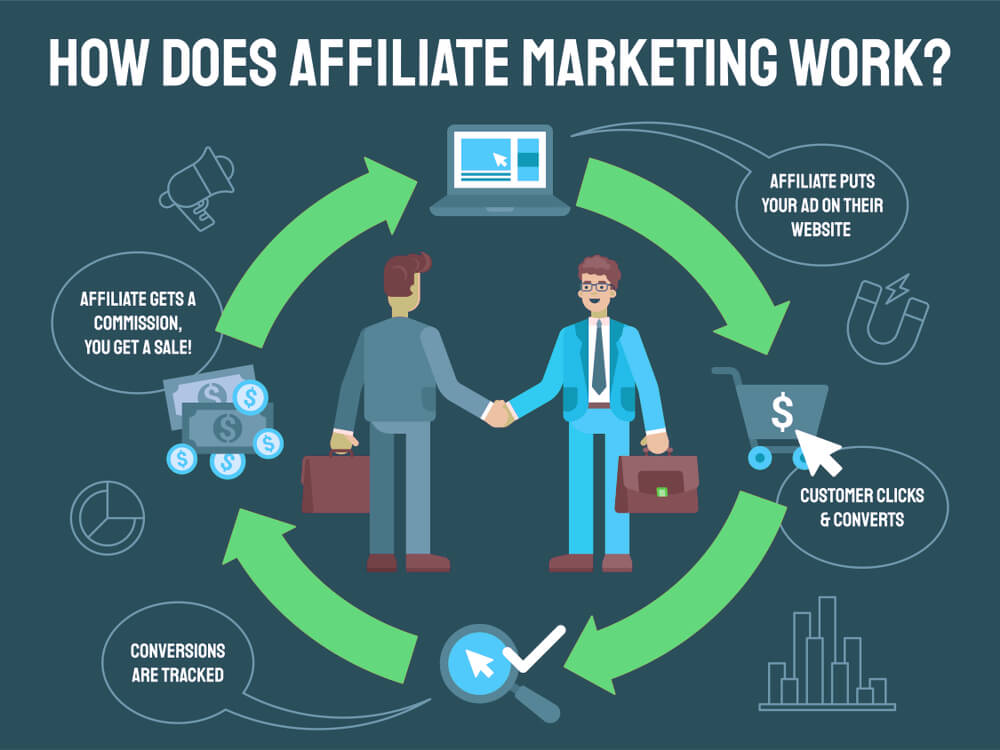 There are different commission models in affiliate marketing. So making money when someone buys a product is not the only way.
There are also many types of conversion in affiliate marketing, but the most important are sale and lead.
A sale is simply a sale. This is the typical case that a visitor to my website clicks on an affiliate link and then buys something.
Usually you get a percentage commission on the value of the good or services rendered.
So if the sale commission is 5% and the referred customer buys something for ₦50,000, then I get a commission of ₦2,500.
A lead instead is about establishing contact without making a sale. You can find this very often in the insurance sector.
For example, if I include an affiliate link on a page and someone clicks on it, then I get money if that person simply requests an insurance comparison instead of swiping their card. This is called cost-per-action (CPA) affiliate marketing. And they usually pay fixed amounts.
The referral of long-term customers is particularly lucrative.
If, for example, I refer people to an online service and they become permanent customers there (e.g. pay a monthly fee for a newsletter service), then I also receive a small commission on a permanent basis as long as the person referred remains a customer there.
This is called a lifetime compensation.
The lifetime commissions are very lucrative. Here you refer a customer to a newsletter service once, and as long as that person is a customer, you keep receiving your commission every month. You can make good money with this.
There's also the nice aspect of having many affiliate programs to choose from—online shops, online services, insurance companies, hosting providers and many others, which means you will always find something suitable for your blog.
But, it takes time and a lot of work to build a website or blog that has enough visitors to make affiliate marketing worthwhile.
Ideally, you should have a few thousand visitors a month to earn more than just pocket money.
To make a living from it, you need a lot more coverage. Although it's important to get the right visitors here.
Interestingly, if most of these come with a buying intent or are looking for a solution to a specific problem, then you will earn a higher commission than if your visitors are only looking for something for free.
So YES, you can make a living from affiliate marketing, but it doesn't work on its own and definitely not overnight.
Starting Affiliate Marketing With No Money
You can start affiliate marketing with no money. It is very important that you have a good marketing strategy before you start affiliate marketing.
The purpose of your marketing strategy is to get the word out about your website.
This will increase your chances of making money from your site. You should write a blog post that will make people want to click on your link.
You should always write useful information on your blog. If you do, people will find it from search engines without you spending money on ads.
When you are starting an affiliate marketing business, you need to decide which of the various options you have that will be the most beneficial for you.
You must also know what to expect. Being prepared is a unique quality that any affiliate marketer should have. A good strategy is key.
To succeed, you should get the right training, and you must be willing to learn the skills required. Some people get started in affiliate marketing by using Google and other online resources.
But, this may not be enough to make you successful.
If you want to build a good reputation and make a decent income, you must take the time to learn about the business model.
Also, you can start your own affiliate marketing business by joining a free affiliate marketing program in Nigeria, and start promoting.
Plus, you can also create a product or service that offers something unique and very valuable and get affiliates in Nigeria to promote it for you in exchange for commissions.
How To Choose the Best Affiliate Programs in Nigeria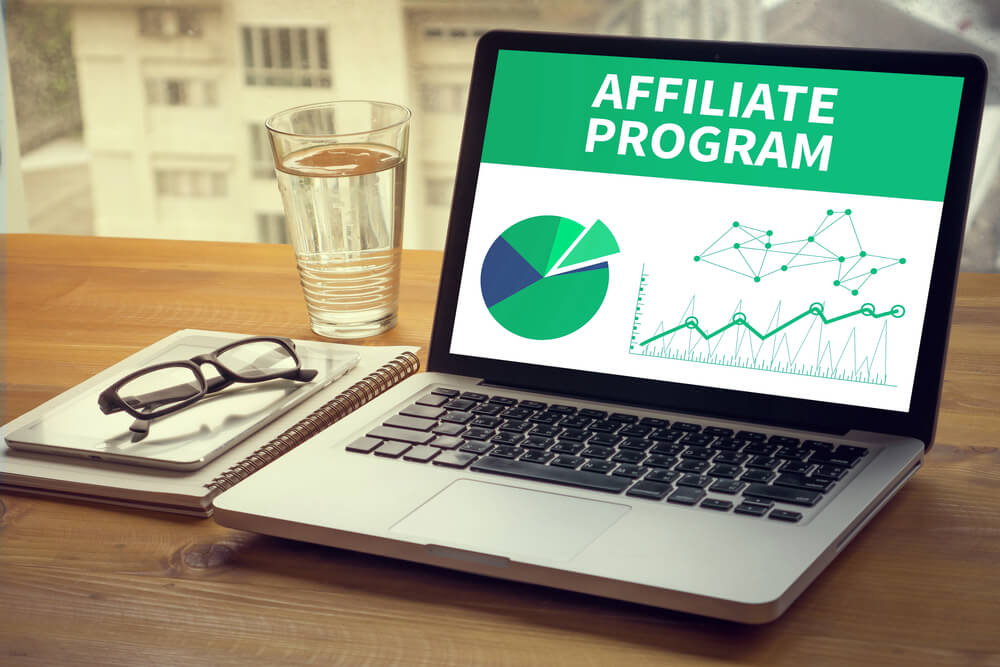 Affiliate programs are easy to find if you know where to look. One of the best places to find affiliate programs is Google.
If you simply type "affiliate marketing programs + your niche", you will find many programs that could fit your topic or product category.
Note that certain companies use a different term for their affiliate program. Amazon, for example, calls it an associates program, whereas Shopify calls it a partner program.
Also, make sure that the companies you find work with affiliates from different countries.
You can easily find out if the company you are considering has an affiliate program by looking at their website.
If you are just starting out as a beginner in Nigeria, here are some of the things to consider when choosing an affiliate program.
High Commission or High Ticket
You must be very cautious when choosing an affiliate program. If the commission offered is not high, it might not be worth it.
You must know how much money you will get for each sale you make. Also, it is a good idea to choose an affiliate program that offers high-quality products with a high price.
If you don't choose quality and expensive offers, you might not get as many sales or commissions as you wish to make.
If you want to earn a lot of money from your affiliate program, you should consider finding a program that is very expensive, because they are often less competitive.
Digital Products or Services
If you want to start making money as an affiliate in Nigeria, you should think about promoting digital products or services instead of a physical product.
They are usually available in the form of content, online course, software or e-commerce products. You can find all these products with affiliate programs online.
Also, you must ensure that you select a reputable company, and make sure that you understand the terms of the affiliate program before you start promoting them on your website.
Promotional Tools
If you decide to become an affiliate for an online business, it is important to select a website that offers quality training.
Some websites offer great training, while others only promise good stuff. A good affiliate program will offer training as well as promotional tools.
This way, you will learn a lot from them, and it will be very easy to promote their products or services.
Training programs offer valuable information about business marketing techniques. They can teach you how to properly market products or services and how to write ads use promotional materials.
They can also help you in developing an effective affiliate marketing strategy.
For example, you can learn about how to make your ad stand out in the crowd. They can also teach you how to make a successful online marketing campaign.
Recurring Payment
A recurring affiliate program is an arrangement between a merchant and an affiliate in which the affiliate receives a commission on sales made by the customer that they send their referrals to.
These programs pay you for each referral's first purchase as well as for every purchase made by that person.
Most affiliate programs in Nigeria allow you to create lifetime income as long as your referral is a paying customer. These programs are best because they give you recurring revenue.
When you join one of these programs, you will be able to make money without needing to put in any extra effort. This is why if you want to generate lifetime income, you should choose affiliate programs with recurring commissions.
This will help you generate more revenue, and you will be able to quit your 9 to 5 job.
The Best Affiliate Programs in Nigeria
As explained above, your website visitors and the topics covered on your own website determine the best affiliate programs for you.
Nevertheless, there are some affiliate programs in Nigeria that I have had very good experience with over the past few years and which I definitely recommend.
This of course includes the BlueHost affiliate program, which includes good hosting packages, good conversion rates and pays really well.
You can and should try these out, but the most important thing is that you test out the best affiliate programs for you.
The Best Affiliate Networks to Join
The situation is similar with the affiliate networks. These are providers who provide services for vendors so that they don't have to worry about the payment, technology, traffic, subscription and so on.
Affiliate networks such as Clickbank and JVZoo contain thousands of affiliate programs for small and medium-sized businesses.
As an affiliate, you will definitely find what you are looking for there and I have had good experiences with them too.
Here's a list of the best affiliate networks in Nigeria;
Creating an Affiliate Marketing Blog
There are two ways to create an affiliate marketing blog or a money blog, as it is popularly called. You can use one of the tools that are available for free, or you can build your blog from scratch.
Some of the tools that are available for free include Blogger, Wix and Squarespace.
These are great choices because they are easy to use, and you can get started using them in a short amount of time. The easiest way to start a blog is to use WordPress.org.
For this, you will need to buy a domain name and hosting. You should avoid using a free blogging software because it is often limited in features.
To create an affiliate marketing blog, you will need the following;
Register a Domain name—We recommend NameCheap to register ".com" or other domain names. And QServers for ".NG" domain name registration.
Choose a Good Hosting Provider—SmartWeb is the best hosting company in Nigeria.
Create Quality SEO-friendly Content—You can try this free AI writer to create SEO content.
Share Quality Products—Promoting quality products can guarantee consistent commissions as an affiliate in Nigeria. So, it's wise to promote good products.
Cloak Your Link—You can use Bit.ly or any other link shortening tool like Rebrandly to hide your affiliate links from search engines and your website visitors. It turns them off.
Promote Affiliate Programs by Blogging—WordPress is the most used blogging platform in the world. This is why we highly recommend that you start a blog with WordPress.
Promote Affiliate Links on YouTube—Start a YouTube channel in your niche, create valuable videos to rank high on YouTube search, and promote your links as you grow.
Terms to Know as an Affiliate Beginner in Nigeria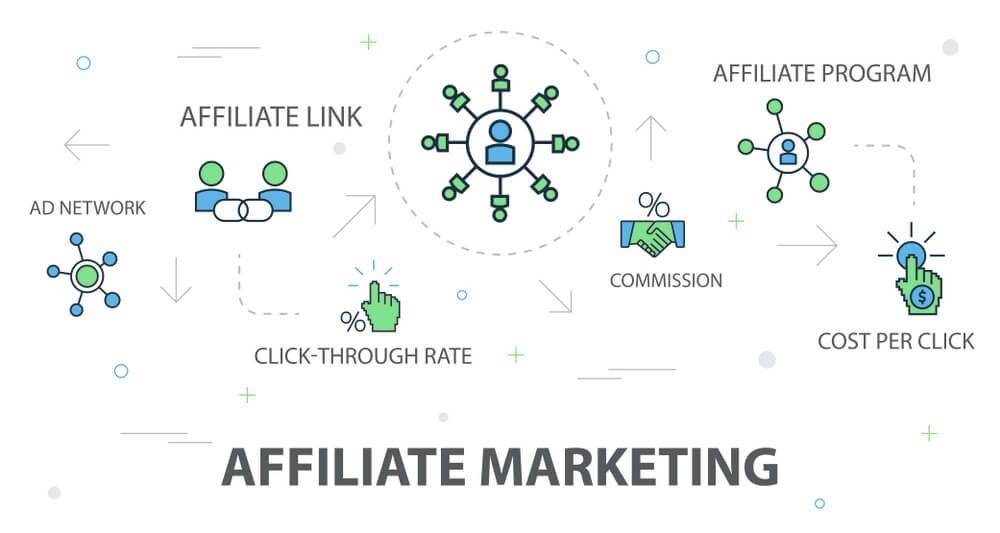 Ad Blockers: Ad blockers are software that removes advertisements from the screen. Ad blockers now see some links as ads, which they didn't do before, so they don't show them to people who have an adblocker installed. This change will have a direct effect on affiliate links and the money they bring in.
Advertiser: A person who owns products or services that are promoted through affiliate marketing is called an affiliate advertiser. An advertiser wants to boost sales, and to do this, they need to get affiliates to work with them.
Affiliate Campaign: This is just an asset that helps you track how well your affiliate marketing activities are doing and bring in sales. You need a tracking URL, a landing page, and, if you want, a banner to set up an affiliate campaign.
Affiliate Disclosure: An affiliate disclosure, also called an affiliate disclaimer, is a statement on your blog or website that tells users that you are paid by companies to promote, review, or recommend their products or services.
Affiliate Link: Affiliate marketing programs use links as a tracker. A partner program gives an affiliate partner a link that is only used by them. When a website user clicks on the link, the affiliate partner gets credit for that click. The affiliate's ID or username is usually included in the link so that it can be tracked.
Affiliate Manager: An affiliate manager is someone who works for an advertiser and takes care of the affiliates. They will find new affiliates, run the process of getting them started, and make sure that their audiences are the same as your target market.
Affiliate Network: An affiliate network is a service that helps connect affiliate marketers, or publishers, with brands. The network is the "middleman" that makes it easy for publishers and brands with programs to find each other. Affiliates can help brands promote their products and open up a new way to sell them.
Click-Through Rate (CTR): This is a way to measure how well your keywords and ads are doing. " To find your CTR, divide the number of times your ad is shown by the number of times people click on it. Higher click-through rates show that your ad is targeted to the people who see it and is relevant to them.
Bonuses: This is an extra payment or commission given to affiliates as a reward when they reach or go above certain levels set by the affiliate marketing programs.
Average Order Value (AOV): A number that shows how much each purchase costs on average. Divide the total value of orders in a certain time period by the number of orders to get your AOV.
Conversion Rate: The conversion rate is the percentage of all visitors to your affiliate website who "convert," or take an action. Even if this number isn't in your affiliate report, it's simple to figure out: conversions ÷ visits x 100%.
Cookie: A cookie is a small file that is stored on the computer of the user. It is used to keep track of who visits the site. Cookies are used in affiliate marketing to keep track of who referred a customer. And, of course, these cookies have a date when they go bad.
Cost Per Action: This is a digital ads payment model that lets an advertiser be billed only when a potential customer takes a certain action. In affiliate marketing, this means that advertisers only pay the affiliates for leads that lead to the desired action, like a sale.
Earnings Per Click: EPC stands for "earnings per click," which is an affiliate marketing term for how much money you make on average every time someone clicks on one of your affiliate links.
Impressions: An impression is the number of times a web page visitor sees a banner, text, link, or other promotional material. In affiliate marketing, the number of impressions is a very important measure. It shows how many times the ad network was asked for your ad and how many times it was viewed.
Landing Page: An affiliate landing page is a page on your website that you send people to in order to get them to click on an affiliate offer and buy something. People could find your landing page through organic search, social media, email newsletters, paid ads, or a number of other ways.
Leads: In affiliate marketing, a lead is something that a visitor does. This action can be something other than a sale, like registering for a website or online service or signing up for a newsletter. The merchant decides what to do. In a pay-per-lead payment model, affiliates get a commission for every action—a lead.
Niche Markets: Niche in affiliate marketing means that you promote your affiliate products to smaller groups of people. For example, you can divide customers into segments based on their budget, their age and gender, where they live, or their interests and preferences.
Return on Investment: ROI, which stands for "return on investment," is a way to figure out how much you made on a sale after taking out the costs. To figure out your overall ROI, you just take your total sales and subtract any costs that go along with getting people to take the desired action.
Search Engine Optimization (SEO): SEO is the process of making online content more likely to show up in the organic search engine result pages. So, SEO in affiliate marketing means the process of making sure your affiliate pages can be found online when people look for products that are similar to what you promote.
Split Testing: A/B testing, also known as split testing, is the process of trying one or more different factors to see which one gets better results. A/B testing is common in a lot of professional fields, and it's also a big part of affiliate marketing.
Conclusion
There's no doubt that affiliate marketing in Nigeria is becoming the go-to online way of making money for many marketers now.
These shifts stem from the many opportunities that come with it, which we have carefully discussed in this post.
To enjoy the gift it keeps giving, make that move today to be among the affiliate marketers that will earn higher in 2023 and beyond.
We trust you will take that all-important step today.
But if you still have questions about affiliate marketing? Leave a comment below, and we'll answer your question.