In today's digital age in Nigeria, having a website for your business is crucial. It's your virtual storefront that operates 24/7 and can reach a wider audience than a physical store.
But before you can launch your website, you need to have a domain name and web hosting. This is where WebManager.NG comes in.
WebManager.NG is a Nigerian-based NiRA.ng accredited domain registrar and web hosting company that offers a wide range of services, including domain registration, web hosting, website design, SSL certificate, digital marketing, search engine optimization (SEO), and more.
In this article, we'll explore why WebManager.NG is the best and most reliable domain and web hosting company in Nigeria.
Reliable Hosting
One of the most critical factors to consider when choosing a web hosting company is reliability. WebManager.NG guarantees 99.9% uptime, which means that your website will always be available to your customers.
They have a robust infrastructure that includes SSD servers, which are faster and more reliable than traditional hard drives. Their servers are also locally and internationally hosted, giving you the speed and bandwidth required for any kind of website you wish to host.
Affordable Pricing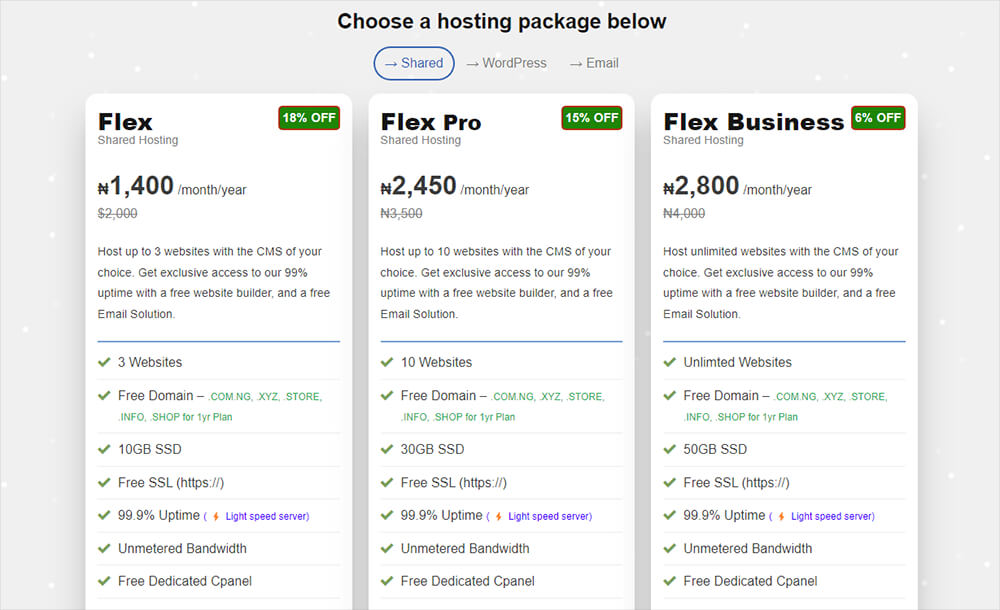 WebManager.NG offers affordable pricing plans that cater to businesses of all sizes. Whether you're just starting or looking to scale up, they have a plan that suits your needs and budget.
They also offer a 15-day money-back guarantee, which means that you can try their services on a risk-free basis with a Starter Plan of ₦200 only.
Good Customer Support
WebManager.NG has a dedicated customer support team that's available 24/7 to help you with any issues you might encounter. They're responsive, knowledgeable, and friendly, and usually do their best to resolve your issues in a timely manner.
Their support has been rated over 4.5/5 across all review platforms.
Website and Domain Security
WebManager.NG ensures website security by providing free SSL (https://) certificates that install automatically.
You can also be rest assured that your private information is 100% safe and secured as they are #1 in personal data security.
User-Friendly Control Panel
WebManager.NG uses Jupiter cPanel, one of the latest and most user-friendly control panels in the industry. It's easy to navigate, and you can manage your website, email accounts, and databases with just a few clicks.
Freebies
WebManager.NG offers a lot of freebies to its customers, including free SSL certificates, website backups, website migrations, and coupon codes. These freebies can save you a lot of money and hassle in the long run.
Affiliate Marketing
WebManager.NG offers an affiliate program that gives you an instant #500 sign-up bonus into your affiliate account, whether you have an active order purchase or not. They also allow you to make up to 30% of each hosting plan sold using your affiliate link.
Services Offered by WebManager.NG
WebManager.NG offers a wide range of services that cater to businesses of all sizes. Here are some of the services they offer:
Domain Registration
WebManager.NG allows you to register your domain name quickly and easily. They offer a wide range of domain extensions, including .com, .ng, .org, .net, and more. You can register some of these domain names for free when purchasing any of the annual hosting plans.
Web Hosting
WebManager.NG offers various web hosting plans that cater to businesses of all sizes. They offer shared hosting, WordPress hosting, Email hosting, and others.
WebManager.NG guarantees 99.9% uptime, which means that your website will always be available to your customers.
WebManager.NG has got some great features that make it stand out from other web hosting providers. For starters, they offer 24/7 customer support, so you can get help whenever you need it. Plus, they have a user-friendly control panel that makes it easy to manage your website.
But that's not all – WebManager.NG also offers free SSL certificates to its customers, which are crucial for securing your website and protecting your customers' sensitive information.
And, they provide free website backups to ensure that your website is always safe and secure.
With regular backups stored in a secure location, you can easily restore your website if anything goes wrong.
If you already have a website and want to switch to WebManager.NG, they make it easy with their free website migration services. They'll help you transfer your website from your existing web host to their platform without any downtime.
And finally, for businesses looking to sell their products online, WebManager.NG offers e-commerce solutions that include features like shopping carts, payment gateways, and order management systems.
This is a great way to take your business to the next level and start selling online.
So, if you're looking for a reliable web hosting provider with great features and excellent customer support, WebManager.NG is definitely worth checking out!