Post was updated: 12th January, 2023.
Getting the best web hosting in Nigeria is a different palava compared to the other web hosting options we have in Europe and the United States.
Under normal conditions, when choosing the right web hosting company in other countries, load time and uptime are the most important factors, as well as their pricing plans.
But here in Nigeria, it is not realistic to check the uptime of a hosting company because most Nigeria web hosting companies do not show this information to the public.
Choosing the right web host is by far the most important thing when getting a new website for your business. Don't get me wrong, the design is also critical, but it won't mean anything if your website is slow or inaccessible, right?
So what can you do to solve this problem? How do you know the best web hosting company in Nigeria?
Don't fret! Based on my experience and that of my partners, I have taken the time to list out the best, cheapest, and most reliable web hosting in Nigeria.
If you don't have the time to read the whole list, Smart Web is my recommended web hosting company in Nigeria. And yes, they are fast, affordable, and more reliable than the other web hosting companies in Nigeria.
Their web hosting service is more than suitable for any type of website, even if you want to start a blog or create an ecommerce website for your business.
You can also get a discount through Tech O'Clock if you decide to go with SmartWeb Nigeria.
6 Best Web Hosting Providers in Nigeria
So let's take them one after the other, shall we?
1. SmartWeb Nigeria — Most Reliable Web Hosting Company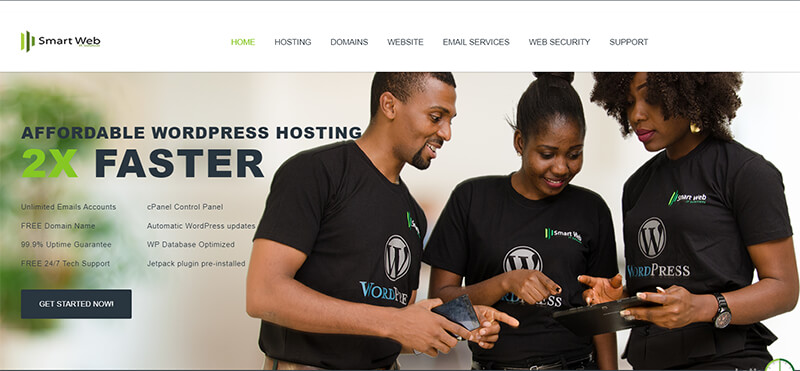 SmartWeb Nigeria was the first web hosting company I tried when I started my digital marketing agency some years ago. And we've been through a lot of hiccups together.
When I joined SmartWeb Nigeria about six years ago, their service was excellent. And they had good customer service to back it up too.
If you are just starting a new business, and you need reliable web hosting with no sugarcoating, then you should really consider SmartWeb for your new website to avoid headaches in the future.
SmartWeb has one of the best (if not the best sef) customer support teams in the web hosting industry in Nigeria! And they've proved this to me and many others multiple times over.
And honestly, aside from the small issue we had many months ago, this makes it the 6th year of me being their customer.
To prove to you that this is not just a hype, here is a screenshot of my dashboard on SmartWeb's website.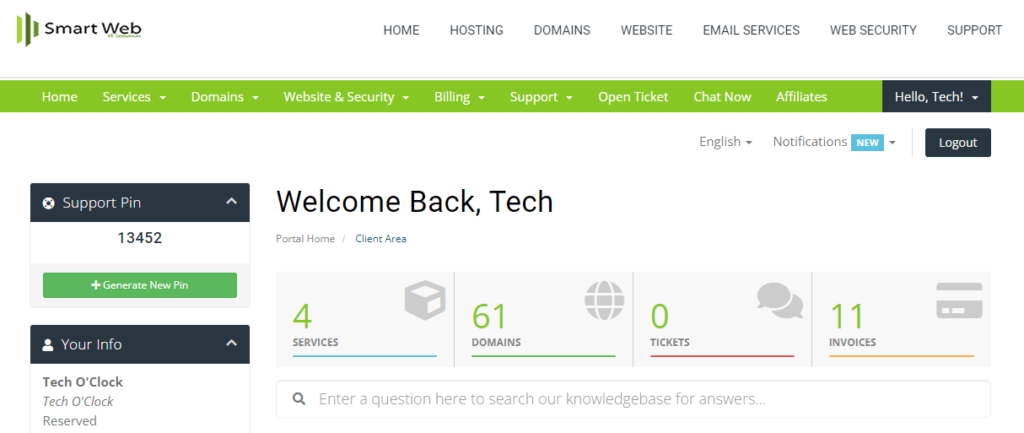 My advice: If you want a fast and secure Nigeria hosting company for your business, SmartWeb would be a good start for your new website. However, if you are just window shopping, then by all means, keep reading to check out other web hosting companies in Nigeria.
Smart Web's starter package would cost you just ₦650/mo and just ₦7,500/yr. However, like most web hosting plans, you get to save more if you choose to pay yearly. This makes Smart Web the most affordable hosting company in Nigeria.
While it's very tempting to go for the cheapest hosting option you see on their pricing page, you should at least consider their WordPress hosting plan if you are really serious about your business.
The reason for this is simple—it's because I didn't start with the cheapest option as well. However, I've now moved to their VPS plan to give me more freedom to tweak things. I won't ever recommend anything I won't use myself. That will be pure hypocrisy!
My Rating: 9.2/10
2. DomainRacer — Cheapest Web Hosting Company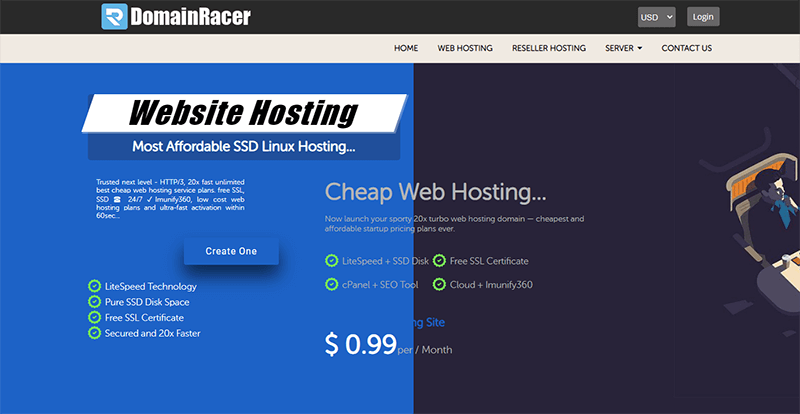 DomainRacer is one of the most popular web hosting providers for marketers. The popularity is not only because you get cheap web hosting in Nigeria, but their hosting services are also very reliable.
DomainRacer provides a wide range of web hosting services, including VPS, shared hosting, dedicated hosting, LMS, and application hosting services (WordPress, PHP, MySQL, E-commerce, Magento, Joomla, and Drupal). All these services are available at a very affordable price.
If you want to use DomainRacer's web hosting plans, it doesn't matter where you live or where your business is. Because they have tier-4 data centres in India, the USA, the UK, Canada, Singapore, France, Germany, and more.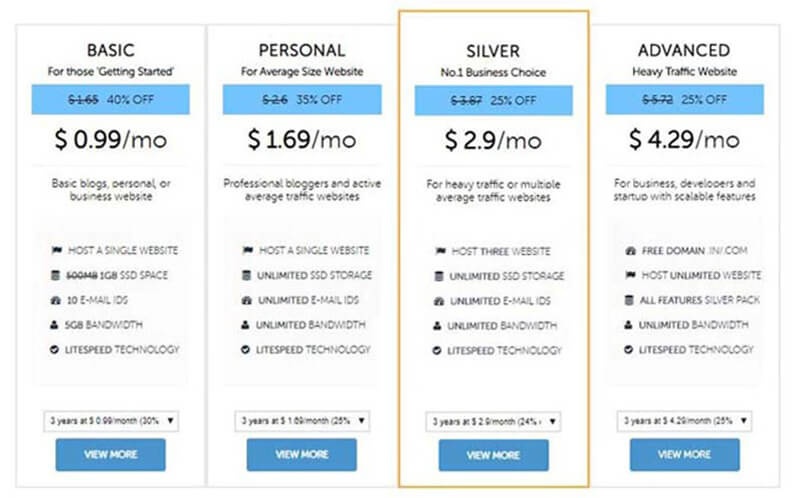 If you are planning to migrate your website, they have a free website migration system. You don't need to worry about losing data because their plans give you free weekly Jet backups. There is also a free SEO default tool to boost your website's ranking on Google.
All hosting plans at DomainRacer are very affordable. You can begin hosting a website for as little as $0.99 per month. Also, you will get many free and amazing add-ons with their hosting plans. With most Nigerian card limits set at $25 per month, you should have no problem paying with your Naira Master or Visa cards.
My Rating: 8.1/10
3. QServers — Best Rated Hosting Company in Nigeria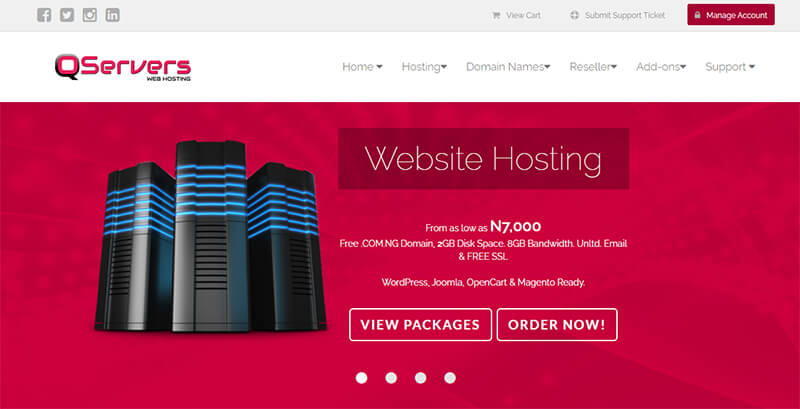 QServers is also a very reliable website hosting company in Nigeria. And the main reason why I said this is because of their service uptime.
I have several websites hosted with them, and hardly get a notification from JetPack monitoring service, telling you that your website is down or inaccessible.
Although you might get limited features compared to other web hosting companies I have tried, you can still get a good amount of traffic with their basic plan.
QServers' starter package would cost you ₦900/mo and just ₦9,000/yr. And just like most web hosting plans, you get to save more if you choose to pay yearly.
And here's what you get as part of your package: 2 GB of storage, 8 GB of bandwidth, a free.COM.NG domain, 5 subdomains, cPanel, unlimited MySQL, a free SSL Certificate, and daily backups in case something goes wrong with your website.
My Rating: 7.3/10
4. BlueHost — International Web Hosting Company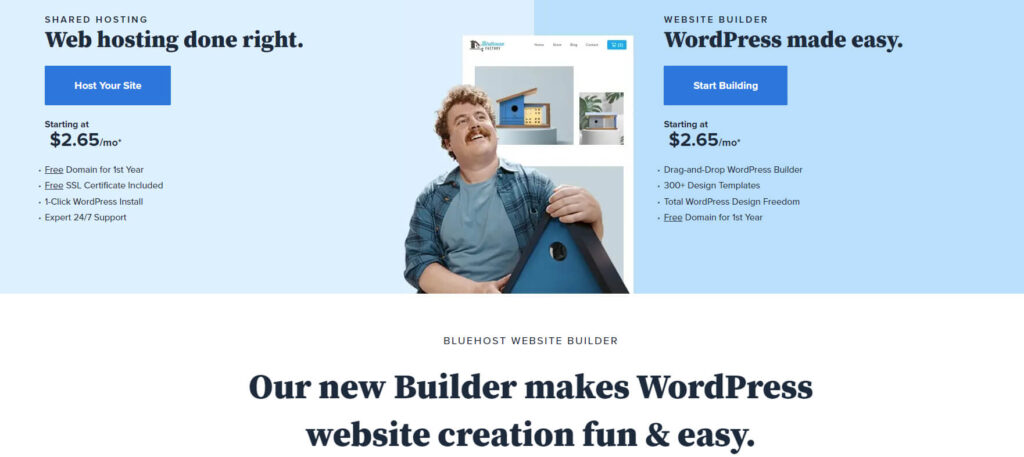 Honestly, if I wanted to do real justice to this article, BlueHost shouldn't even be on this list. And it's not because their service is poor but because it's quite expensive here in Nigeria, and you might run into issues paying for their service due to CBN's restriction on our naira debit cards.
One of the best things about them is that WordPress.org (the most popular website software) named them the best web hosting provider for their CMS. And they also offer good value at a fair price in dollars.
Some benefits of their basic shared hosting plan include; one-click WordPress installation, free SSL certificate, MOJO marketplace to install apps, a free domain name, cPanel, a 24/7 support team, and $175 in free advertising credits.

You will get all this for an introductory price of just $2.65/mo. Which is not that bad, considering BlueHost is the most popular web hosting company in the world!
If you want speed, security, and a great user experience on your website, BlueHost uses international standards when it comes to getting the best web hosting in Nigeria. So you can definitely try them out too.
But if you are paying for their service from Nigeria, then you might run into issues due to the new CBN policy on Naira cards for international spending.
So the only option you have to pay for their service is to use a virtual card company like PayDay or get a dollar Mastercard from your bank to make your purchase. Unfortunately that's the only way.
My Rating: 7.3/10
5. WhoGoHost — Most Popular Hosting Company in Nigeria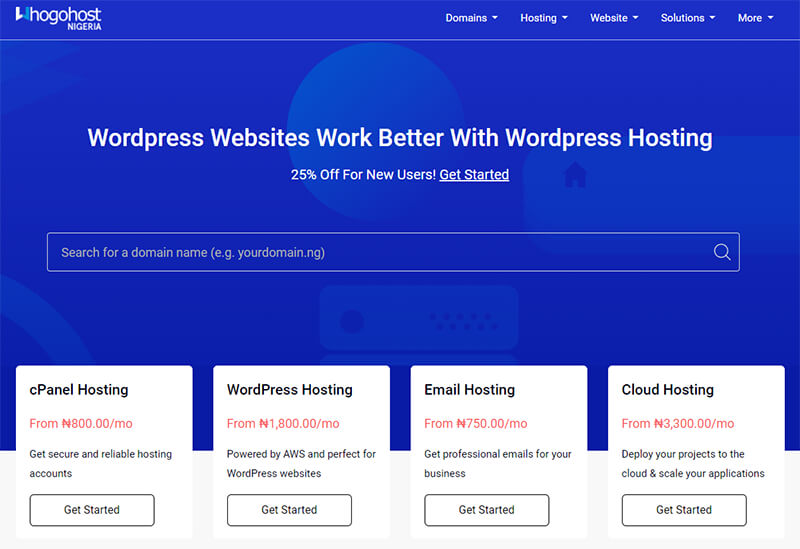 WhoGoHost is the most popular web hosting company in Nigeria. With more than 9,000 active customers and over 23,000 active domains registered with them, they have been here for a while.
However, their web servers are slow, and you don't even have to go too far to put this to test.
All you have to do is visit WhoGoHost's website to notice how slow their own website is. But you can always give them a try if you love slow things. Just kidding. Don't!
Just like every other web hosting company in Nigeria, there are different options to choose from. Some of them include shared hosting, reseller packages, cloud hosting, and VPS hosting.
WhoGoHost is also an accredited IBM business partner, a Google Suite reseller, a Cloudflare certified partner, and an Inter Switch partner.
While all these certifications sound great, the pricing plan is more important. So let's see what you get with their basic hosting plan.
The smallest hosting package on WhoGoHost is the Premium plan, and it comes with some exciting features. Their basic package would cost you ₦1,000/mo or ₦10,000/yr.
And the plan gives you access to 6 GB of storage space, 30 GB of bandwidth, 10 subdomains, 2 add-on domains, a free .NG domain, a free SSL Certificate, unlimited emails, unlimited databases, and 24/7 support.
My Rating: 7.2/10
6. Web4Africa — The Oldest Web Host in Africa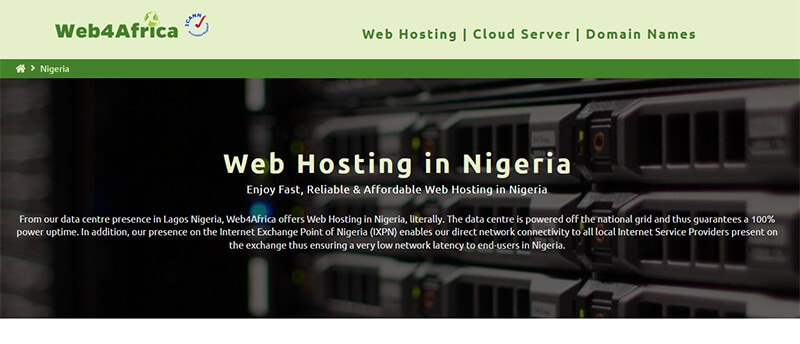 Web4Africa is the best hosting company in the whole of Africa. However, their monthly plan is more expensive compared to most hosting companies in Nigeria.
While a lot of people might be discouraged because of their monthly plan, I bought a test domain and hosting from them, and as you might have guessed, I loved my experience with them.
Web4Africa's support team is top-notch too. You should see how quickly they responded when I wanted to transfer my domain to their platform.
It will cost you about ₦1,200 for their Mercury plan, but you get a discount if you decide to pay yearly. Their yearly plan is just ₦9,000, which is a steal if you ask me.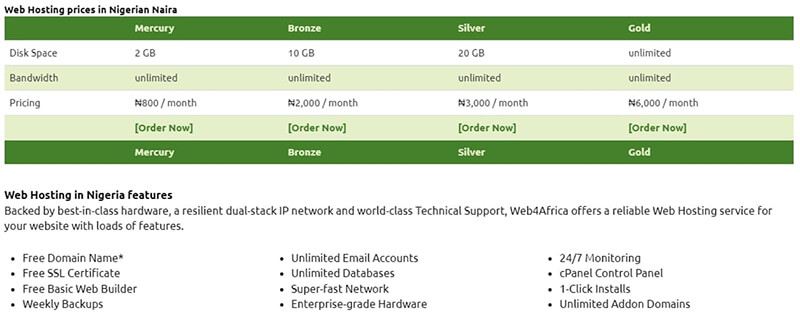 Here's what you get with that plan: cPanel, unlimited bandwidth, a free .COM.NG domain, a free SSL Certificate, unlimited emails, unlimited add-on domains, cPanel, unlimited databases, weekly backups, and a very fast support team.
My Rating: 7.1/10
How Much Does Hosting Cost in Nigeria?
Nigerian internet users are looking for cheaper ways to get their hosting services. The cost of web hosting in Nigeria is one of the most expensive in the world, and this is due to the lack of competition.
Hosting is a service that consists of storing and making available website files on a server so that they can be accessed by internet users. Hosting services are usually provided by hosting companies who offer a range of packages to suit different needs.
Web hosting Nigeria costs depend on factors like bandwidth, storage space, server location, and support services offered by the host company.
Here's the list of some hosting companies and their hosting prices in Nigeria:
| | | | | | | |
| --- | --- | --- | --- | --- | --- | --- |
| Web Hosting | SmartWeb | DomainRacer | QServers | BlueHost | WhoGoHost | Web4Africa |
| Shared Hosting | ₦650/mo | $0.99/mo | ₦900/mo | $2.95/mo | ₦1,000/mo | ₦1,200/mo |
| Dedicated Hosting | ₦129,000/mo | $88/ mo | ₦159,000/mo | $80/mo | — | — |
| VPS Hosting | ₦30,500/mo | $8.3/mo | ₦18,000/mo | $20/mo | — | ₦12,000/mo |
| Cloud Hosting | ₦7,300/mo | — | — | — | ₦10,500/mo | — |
| WordPress Hosting | ₦4,200/mo | — | ₦1,500/mo | $2.95/mo | ₦1,800/mo | ₦4,200/mo |
That concludes my list of the best hosting companies in Nigeria. I hope this helps you make the right decision when choosing the hosting company for your website. Another thing to have in mind, if you want to hire a website design company for your website, is to make sure that they only use the best hosting company in Nigeria.
If you found this post helpful, kindly share it with your friends to help them too. Choosing a good web hosting company is very crucial to business success online. So don't forget to share it on social media.