Since the advent of digital marketing, companies have realized the need to get the word out about their businesses via the internet.
The advancement of search engines over the years has only increased the importance of SEO in marketing.
Now companies spend thousands and even millions of dollars for a place on the coveted page one on Google.
If you handle your company's SEO or you oversee certain clients' websites, then you must know that it takes a lot of work to rank for relevant keywords on search engines. Even then, there's no guarantee that your ranking will rise or be maintained.
That being said, being aware of some of the SEO challenges that you will encounter and knowing how to handle them with poise will put you ahead of the competition.
However, SEO is constantly changing as Google keeps tweaking its algorithm every year, so in this article, we will run you through 5 SEO challenges to deal with in 2022.
Duplicate Content
You may not know this, but Google does not exactly penalize websites for duplicate content.
Hear this:
Google understands that there's no such thing as an original idea. The so-called original ideas we see and hear of are only a bunch of old ideas that have been fattened and polished.
They only penalize websites that attempt to use plagiarized content to manipulate search engine rankings.
Having said that, you may still want to deal with your duplicate content if you want to keep your search engine rankings.
This is because Google uses crawlers on your site to identify which contents deserve a place on the top pages on Google SERPs, but those crawlers are not unlimited.
If they are spent going through duplicate content, you may run out of crawlers to crawl over your more unique content.
There's not much you can do to prevent other sites from having similar content to yours. As long as you don't plagiarize and are serious about creating quality and creative content, then you are good.
Within your own website, the major cause of duplicate content is when a single URL has multiple versions, and search engine bots see it as the same content on different pages.
To solve this issue, you can use the Screaming frog spider tool to crawl your site and fetch out the different versions of the same URL.
To fix it, consider using Rel=canonical tags, non-index tags, and make sure always to mark your preferred URL.
Spammy Traffic
Once upon a time I noticed that a site that had nothing to do with me sent a lot of traffic my way.
I was pleased at first until I discovered that it wasn't doing me any good. In fact, the average bounce rate of my site increased because of this 'strange traffic'.
The strange traffic is what is known as spammy referral traffic.
It happens when spam webmasters bots send fake traffic to your site.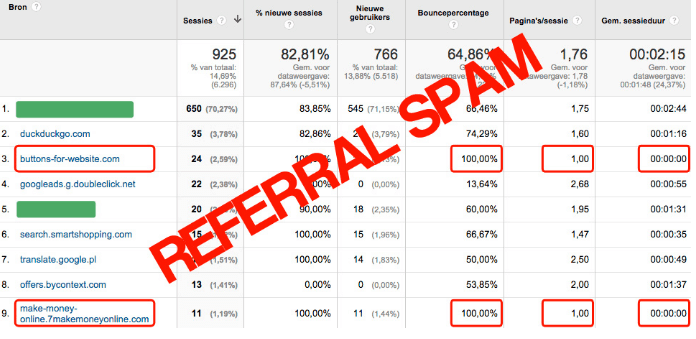 How do you know when a traffic source is fake?
For starters, if you do not have any backlinks on the source, then it is fake. In most cases, this traffic is not human, so they hit your site and bounce off.
Such traffic does not add any real value to your site, except to mess up your analytics.
One way to solve this problem is to block known bots in your Google analytics.
Alternatively, you can pick the spammy referrals one by one and block them from the admin tab of your dashboard.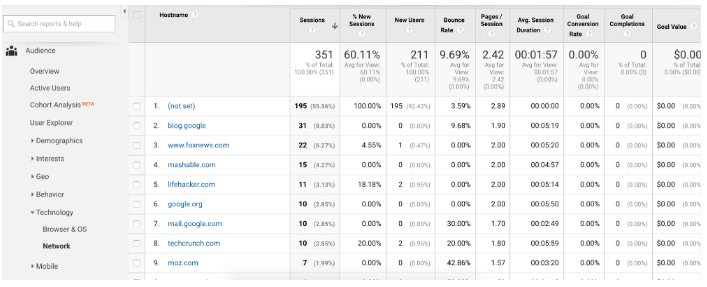 Sudden Drop In Traffic
You are bound to experience a traffic drop on your website at some point. There's nothing worrisome about that.
Sometimes it may be as a result of an off-day or off-week. In fact, it's literally impossible to maintain a steady traffic line because traffic is dependent on the seasons.
What should scare you though are steep traffic dips. These types of drops will be pronounced in your Google Analytics traffic report.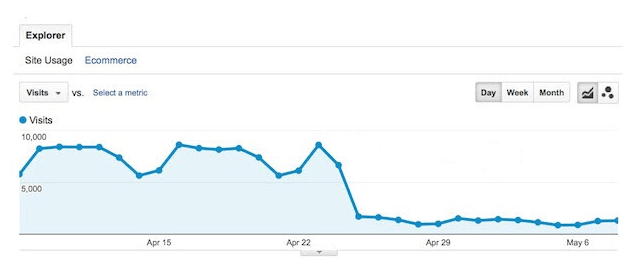 To ascertain that it is not just another seasonal drop, compare your current data to previous ones of the same season of previous weeks, months or years.
Such unexpected traffic dips could be as a result of Google penalizing your site for a violation or a malfunction in your analytics tool.
Whatever the problem may be, make sure you fix the issue(s) as soon as possible and stay alert after that to protect your site from further negative SEO.
Once you do that, retaining or getting more traffic to your site won't be that difficult.
Incorrect Schema
Schema markup was created to optimize snippet on Google, but many SEOs are mostly misusing it.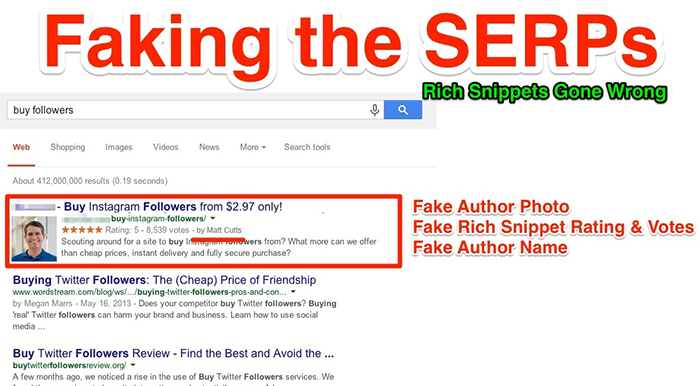 According to Google, Schema should only be applied to specific items and not categories, but some SEOs misuse it to try to rank their landing pages.
For example, 'hotels in London' is a simple search phrase and schema cannot be applied to it. Doing this may result in Google penalizing your site for a spammy schema.
Once that happens, your site will not display its rich snippets when you search for it on Google.
To avoid Google penalties, go through Google's structured data implementation guidelines and see that you are not in any violation.
Then run your page's URL through Google's structured data testing tool. You will get a notification if there's something wrong with your data.
Speed Issues
Website speed has always mattered, but in 2010, Google made it official when they listed it among their list of ranking factors.
This means that search engines will penalize slow websites.
While this was done to improve the user's experience as much as possible, there's something in it for you too. The faster your website is, the lower its operating cost.
With the fierce competition in online marketing going into 2022, you may need the aid of high definition images and plugins to outdo your competitors.
However, some of these plugins and images may be responsible for bloating your site, thereby making it slow.
To test your site's speed, use Page Speed, YSlow, or Pingdom Website Speed Test.
As for improving your site's speed, try to optimize your images (they shouldn't exceed 100kb), discard unused plugins, avoid redirects, and minify resources.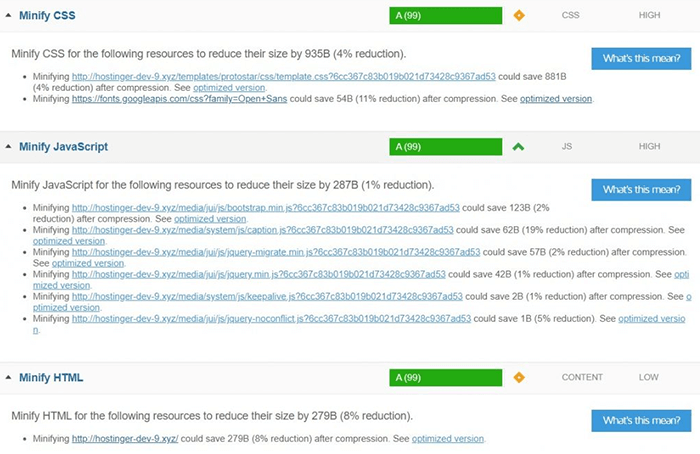 Conclusion
If you produce good content but still struggle to rank well on search engines, then you failed to follow a couple of SEO tips in 2021.
2022 is your chance to do better.
Please go through the aforementioned suggestions and try to tackle them one by one.