How to create a website using WordPress.
Do you need to be a programmer to build a website?
Well, the answer is NO!
I knew nothing about programming when I built my first website.
WordPress is the best CMS (Content Management System) for SEO because of its proper HTML mark-up, SEO friendly permalinks, well-optimized images, easy content creation, title tags, and headings.
Still thinking of how to create a website with WordPress? Read on to find out below…
How to create a website using WordPress
creating a website using WordPress is easy, it might be a little bit tactical but it's still easy.
After reading this article you would know exactly how to create a website using WordPress.
Below are some of the steps you should follow to create a website using WordPress.
First of all…
Buy a Domain Name:
A domain name is very important for SEO reasons, it helps with your ranking. You need a domain name registered with top agents like Godaddy, Enom, e.t.c.
You can also get a domain extension that shows the country of a target audience, for example, COM.NG. This can go a long way in boosting local SEO for your brand.
How Do I Buy a Domain Name?
Choose a good domain registrar (Bluehost is a very good choice).
They always have a domain availability checker tool to help you check if your domain is available.
Search for domain availability.
Pick the best available option.
Finalize your order and complete the domain registration.
Verify the ownership of your new domain.
Secondly,
Hosting
You need to Host locally within the target country for SEO reasons. In case you are wondering why I keep on mentioning SEO reasons, its because SEO is really important, so everything you do concerning a website, you need to consider SEO first and be totally SEO conscious.
Why do you need to host? Every WordPress website needs to be hosted because Your website lives on a server.
A web hosting provider maintains the server and technology needed to connect your site to the Internet.
When an Internet user wants to visit your website, they simply type your domain or web address into their browser.
Their device connects with the server and your pages are delivered to the user. simply straight forward.
How Do I Host?
Choose a web hosting provider
Decide on the amount you want to spend on hosting (make a budget)
Choose a hosting type, we have cloud, VPS, shared and dedicated hosting.
Select a hosting plan according to your budget. There are different hosting providers, so one should be able to meet your budget.
Register your domain.
Installing WordPress
You need to install your WordPress website from the control panel of your hosting.
Log in to your hosting account for example Bluehost.
Go to your control panel.
Look for the "WordPress" or "Website" icon.
Choose the domain where you want to install your new website.
Set the details for the WordPress installation like email ID, username and password.
Select all the necessary conditions under the license agreement.
Click the "Install Now" button and you will get access to your new WordPress website.
Most hosting companies have already made WordPress installation easy for you but just in case your hosting account does not have all these available, then you can download WordPress from www.wordpress.org/download
Now that you've successfully installed WordPress the next step is to visit your website and log in
WordPress Login Page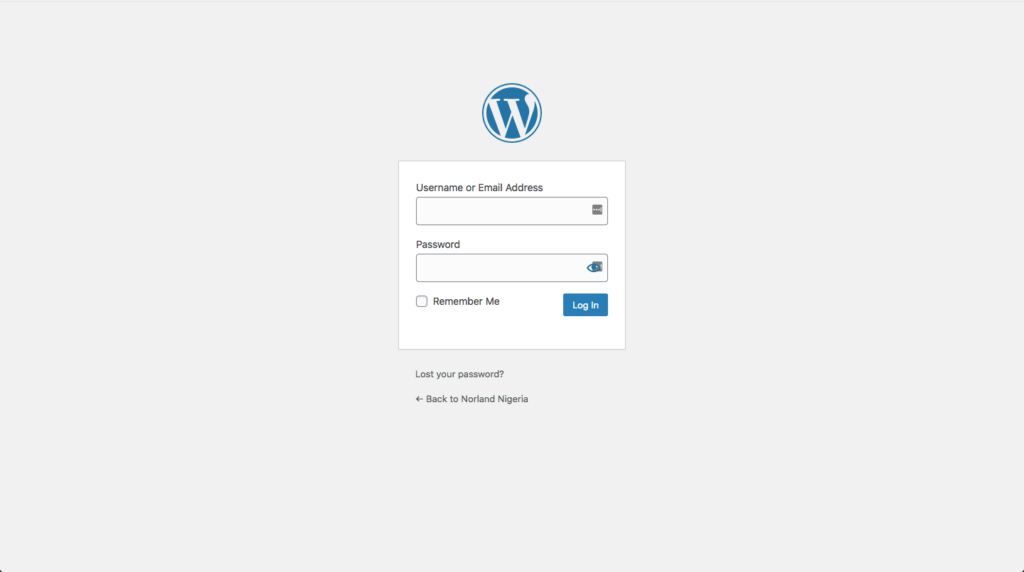 That is exactly how the login page looks like.
Note:- if you want to login next time you could simply type www.yourwebsite/wp-admin
After logging into your dashboard, you should be greeted with a page shown below. It will be a little plain because you would have to install most of the features yourself.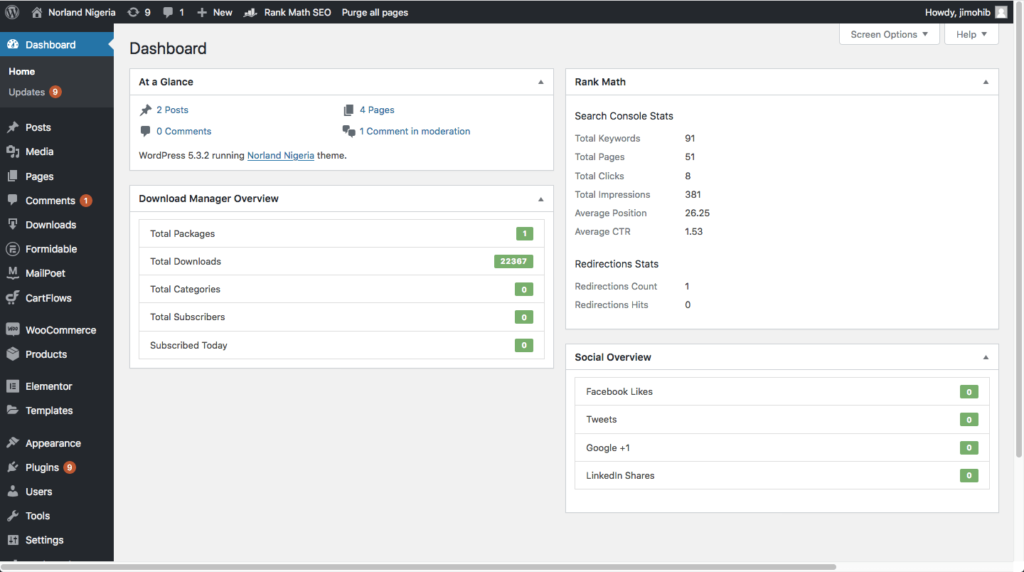 It would include
Dashboard
Posts
Media
Links
Pages
Comments
Appearance
Plugins
Users
Tools
Settings
You have to customize your site's appearance by activating a WordPress theme
So click on appearance, then click on a theme.
Note: there's a difference between themes and templates.
So you could choose from any of the free WordPress themes available or buy a theme from Themeforest.
Install the theme you fancy and activate it.
Next, you have to customize your theme by clicking on appearance again then customize.
When you click on the appearance you get to see themes, customize, widgets, menus, background, edit CSS, editor. Simply explore through all these. The names are mostly self-explanatory.

After editing the appearance, you can add necessary plugins like Yoast for SEO. Plugins extend your website functionality to make life easier for you and your audience.
Finally, you can start adding pages and necessary content.
That is literally all the basics about WordPress.
I'm sure you now you should be able to create a very simple website using WordPress.
We'll be putting out a more comprehensive guide on how to create a fully functional website with WordPress in the future. So subscribe below to be notified as soon as it drops.
If you have the time, check out this post on how to revamp your website to get more customers. It will help your website stay out of trouble.