After our immense review around Internal Linking Plugins, here are 5 out of them that make smart link whisper alternatives.
For some of us, Link Whisper is a vital internal linking tool that we can't do without. Many are so blown away at the life-saving features it offers.
Of a truth, the tool is amazing, and it changes the way we think about Internal Link building. From the powerful Link suggestion it displays as you write on WordPress, to its one-click Automatic Linking and in-depth Reporting, are some of Link Whisper's top features.
Now, while the so-called tool is great and useful – it's not alone in the Link building field. After the inception of Link Whisper, several Plugins have emerged and a great number of them live up to the term Perfectly-matched Link Whisper Alternatives.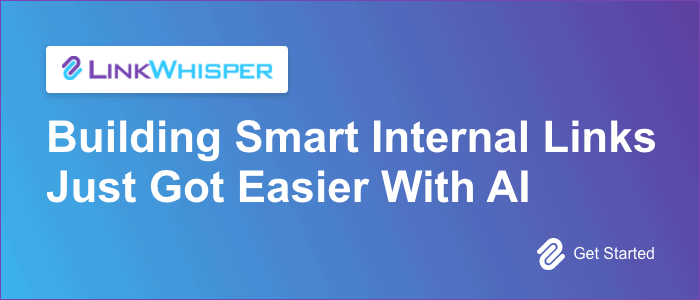 Let's now explore these Link Whisper Alternatives, comparing and contrasting their features with the Subject.
Sorry…we digressed! Before getting into the main topic. It would be imperative to explore Link Whisper's Features. This is to make sure we understand what they are and how to approach the Listing the right way.
Link Whisper Features
That said, here are all Link Whisper's Features in brief.
1. Link suggestion
The Link suggestion tool is the primary feature of the Link Whisper WordPress Plugin. It works by analyzing the contents you have on your site and then matching them up with Natural Language Processing and other technologies.
As you write on WordPress, Link Whisper showers you with its box full of Link suggestions. The box contains two parts…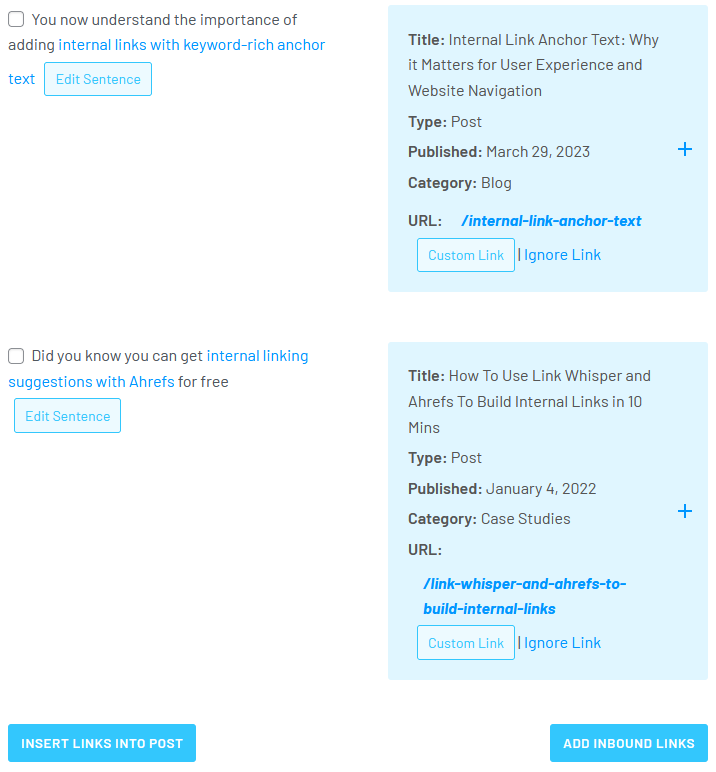 The left-hand side contains the proposed phrases (Anchor Texts) which Link Whisper has discerned and marked worthy of converting into hyperlinks, the right-hand section on the other hand contains the Pages that will wear the Proposed Anchor Texts, thereby making them Internal links.
From the same box, you can choose to ignore the Link suggestion if it's irrelevant or sth else. You can also edit the matched Anchor Texts if possible to make them more vibrant and neat.
Also, from the same box – there are filters and search operators to help in refining the output. You can use any of these to fine-tune the Suggestions that Link Whiser recommends, and by the way, as you use the Plugin, it gets more familiar with your site.
Key takeaway: After the Review of top-tier Link suggestion tools, we found Link Whisper as the best for that use case thanks to its unique interface and powerful capabilities.
2. Internal Link Statistics and Reporting
In conjunction with the Link suggestion tool, Reporting and Internal Link statistics are invaluable as they help in avoiding the guesswork.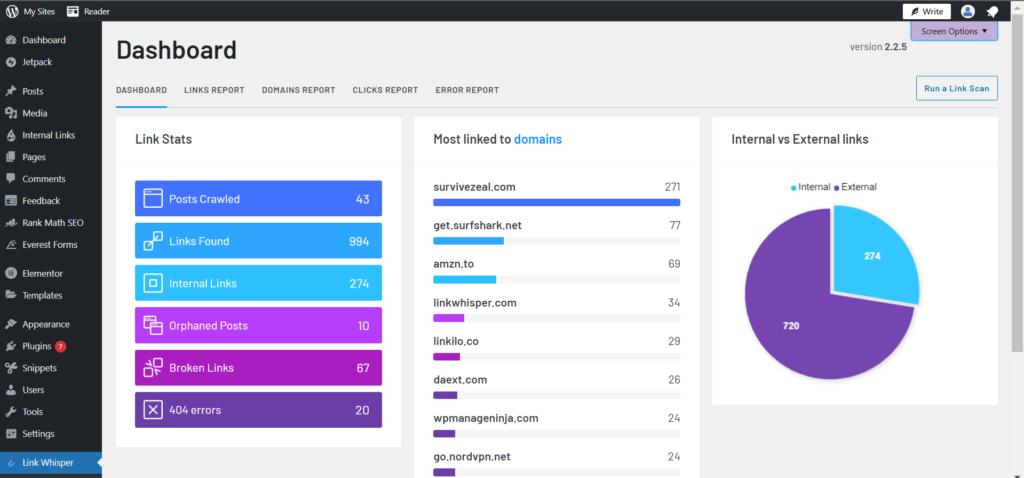 The statistics section shows you let's say – the overall profile of your Link's health. From there, you can see a compilation of the information in the Reporting section in one place, you can also see the Most linked to Domains and the rate of Internal vs. Eternal links count. This vital infographic communicates to the user in a proactive way so that they can do the necessary stuff before it's too late.
Now coming to the Reporting section, it's never a Dashboard where information are kind of summarized. Instead, it breaks down the elements in the Statistics section into individual and detailed reporting.
From here, we have the Links Report (shows the number & nature of the links built), the Domains Report (brings out the external sites where we have passed link juice to in one location), the Click Report (shows us the Clicks on Internal Links), and lastly the Error Report (which is more than a 404 monitor).
3. Automatic Link insertion
A good number of the Applications that we will mark as Link Whisper Alternatives have Automatic Linking integrated. It's a valuable feature that's worth having, because, it lets you do the time-consuming work at the click of a button.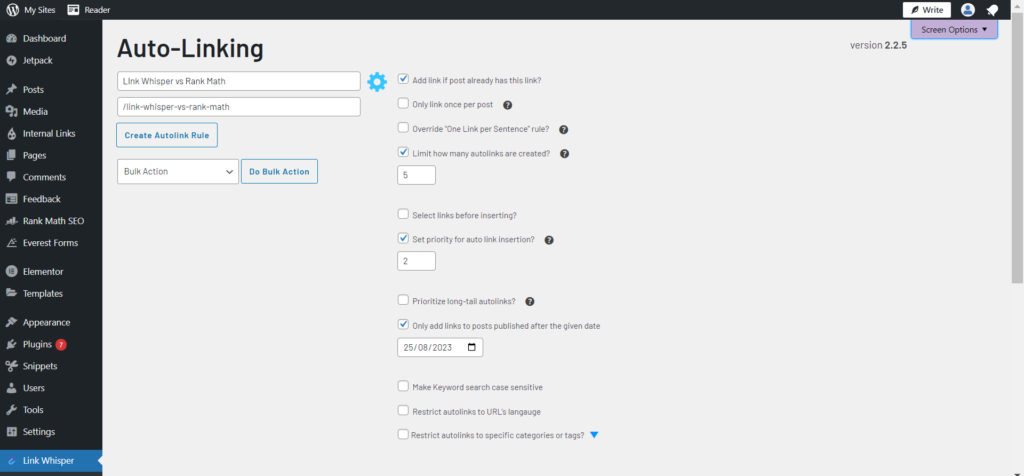 It starts with adding up target keywords and then specifying the Pages which they will marry, and finally hitting the Publish button (or whatever) to see the magic in action. Thankfully, the idea and technology of Automatic Linking have changed over time.
You now have intelligent filters that are useful in making sure the right Automatic Link appears at the right place. Some of these good filters include Autolinks Limit (which limits the number of Automatic Links on a page), Autolinks Prioritization (which prioritizes one Automatic Link over another), Taxonomy Restrictions (which pigeonhole the building of Automatic Links in selected categories, tags, etc).
4. URL changer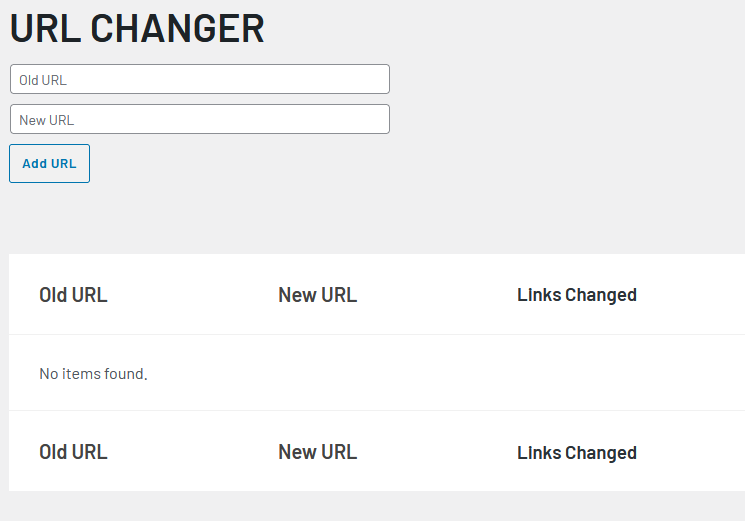 The URL changer makes Link Whisper stand out from the competition. From what we have seen so far, we haven't noticed any tool that has such a feature… don't know of you!
As it name suggests, it lets you replace the built links on your site with other URLs. You just have to specify the Old link target with the new link target, then you relax back to see Link Whisper update all appearances with the New target URL.
Of course, this feature uses no Redirection. Think of it as the same way you build or update links manually. But in this case, it's done by an AI.
Perfect Link Whisper Alternatives
Now that we have reviewed Link Whisper and its features in full, it's time we hop back to the subject — Link Whisper Alternatives that are worthy to be called Replacers.
Indeed, Link Whisper is the father of Internal Linking tools and it performs greatly in its area of concentration.
However, the question — Link Whisper Alternatives keeps arising which on the one hand, is the wish of webmasters for a better tool for Internal Linking, and on the other hand, it's nothing more than Curiosity.
Whatever the case might be, the need to write on Alternative Plugins to Link Whisper is valuable because Link Whisper itself has got some flaws, and several of these Plugins claim to be better.
In haste, here are perfectly matched Link Whisper Alternatives to consider
Linkilo Interlinking Plugin: best Link Whisper Alternative with alleged Advantages
Internal Link Juicer: A smart Link Whisper Alternative that has its own Link index
Interlinks Manager: A good choice for Link Whisper Alternative with unique Reporting
Taking them one after the other
1. Linkilo, as a perfect Link Whisper Alternative!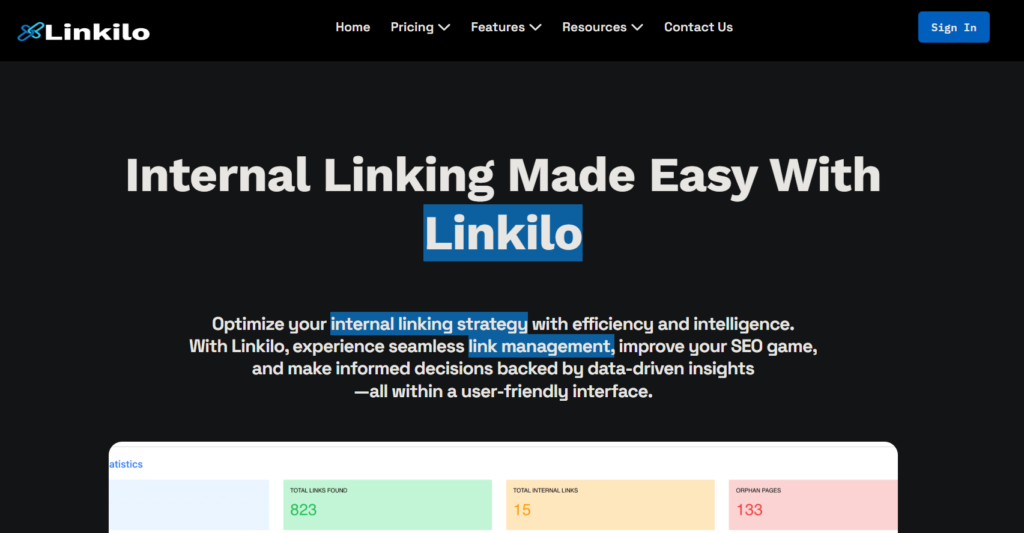 Linkilo is one of the tools every digital marketer should be aware of in regard to intelligent internal linking. It's an exact copy of the Link Whisper WordPress Plugin.
In terms of features, it has almost all the functionalities of Link Whisper. Here are the common things they share in common
Commonalities: Link suggestion, Automatic Link insertion, Internal Link Statistics and Reporting
The Plugin in question is pretty new to the field and it hasn't gotten enough recognition. As a new Plugin, Linkilo has some of the Incredible features found in Link Whisper missing.
Abilities such as URL changer, Error (Broken link) Reporting, Click Analytics, and even Import/Export are yet to be released.
As Aforementioned, the makers are trying to imitate Link Whisper at all costs. Thus, it's worth giving it a while!
Spotlight: They are offering a Lifetime license and apparently it will end this Year.
2. Internal Link Juicer, as a great Link Whisper Alternative!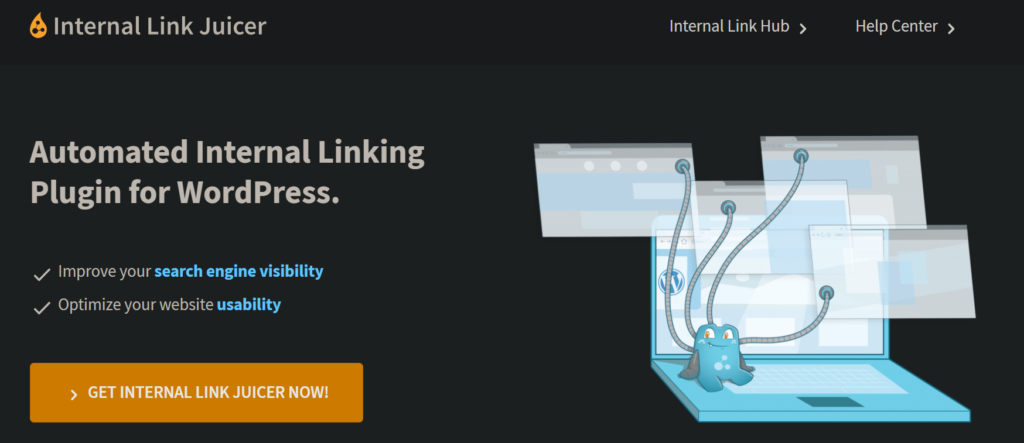 Establishing a strong internal linking profile is as crucial as optimizing your digital marketing strategy for conversions. Which is why the Internal Link Juicer WordPress Plugin took it to another level.
Both Link Whisper and Link Juicer are great tools for your internal linking needs. However, they offer a few distinct features which makes them stand out and distinguishable from each other.
Internal Link Juicer accommodates technical Automatic linking Capabilities likewise Link Whisper. It has in-depth Link structure Reporting and an option to do Import and Export. What I like about Internal Link Juicer is that, it encourages perfect workflow for the building of Automatic links, all thanks to its flexible and adaptive box that appears as you write on WordPress.
A quick difference between Link Whisper and the Plugin being referenced right now is that – Link Whisper is a kind of let's say, an all-in-one Internal Linking tool, whereas Internal Link Juicer has a specialization in Automatic Link creation.
That said, the Link suggestion feature is not present in Internal Link Juicer, though, its infrastructure doesn't require it.
Common Features: Technical Automatic Linking, Link structure Reporting
3. Interlinks Manager as a feature-rich Link Whisper Alternative!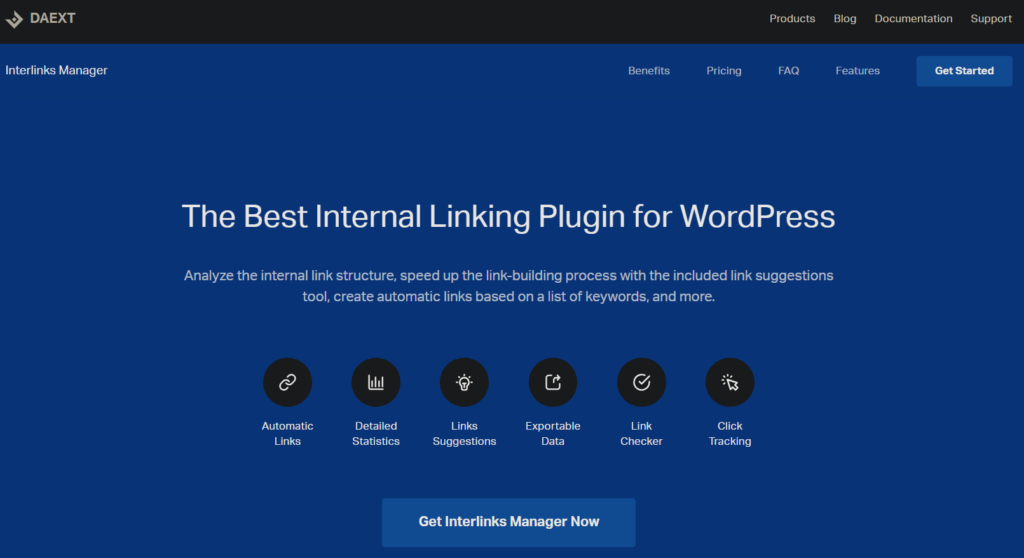 Interlinks Manager has been around for a while and it was developed and managed by a team of developers called DAEXT.
Outside Interlinks Manager, they have also made one called Autolinks Manager (more on it later in the post), both are all good and can take the place of Link Whisper in some things.
Regarding Interlinks Manager, it's pretty good at what it does. Also an all-in-one Internal Linking tool for WordPress for less work.
When comparing Link Whisper with the subject, it's said that Interlinks Manager has the edge in Internal Link Reporting, Automatic Link building, and in Click Analytics, whereas Link Whisper came out first in Error Reporting (bummer, Interlinks Manager doesn't even have it) and amongst many powerful features!
Free Link Whisper Alternatives
If you're looking for free Link Whisper Alternatives, this section finds them better.
Here are the best free Link Whisper Alternatives that you can use in place of the premium tool, which requires your money.
Internal Link Juicer: best free Link Whisper Alternative especially when dealing with Automatic Link insertion
Autolinks Manager Pro: the king of Automatic Linking!
We use the free version of Internal Link Juicer on one of our sites and we don't worry about upgrading, though, the action unlocks premium access. We mostly use it for Automatic Link building, so if this is what you need alone, free Internal Link Juicer is enough.
As for free Autolinks Manager, we are not using it. Reason is that, it doesn't make a perfect workflow when building Automatic Links whilst free Internal Link Juicer lets you set the whole thing up as you write on WordPress.
On the positive side of Autolinks Manager, it's the king of Automatic Linking tools. It lets you get creative and to automate the process of building hyperlinks manually. Features such as the ability to use grouping and Categories on the Autolinks make it spectacular.
Autolinks Manager is the easiest way to achieve one thousand new links on your site from existing opportunities.
Note: Most Internal Linking tools have free versions. But we had included those ones with value in them. The likes of Interlinks Manager's free version are useless!
Poor Link Whisper Alternatives
When we say poor Link Whisper Alternatives, please forgive us – we don't mean, they don't offer any of the good features by Link Whisper. Instead, we mean, they aren't in the same line of business with it, and at most, they may have only two common features with the subject (i.e. Link Whisper).
Without further ado, let's get right into Link Whisper's poor alternatives and check any peculiar feature they possess
Autolinks Manager Pro: a Link Whisper Alternative and at the same time, the best Automatic Link Plugin.
Rank Math SEO: An undeniable Link Whisper Alternative with SEO Analytics in mind
1. Autolinks Manager as Link Whisper Alternative!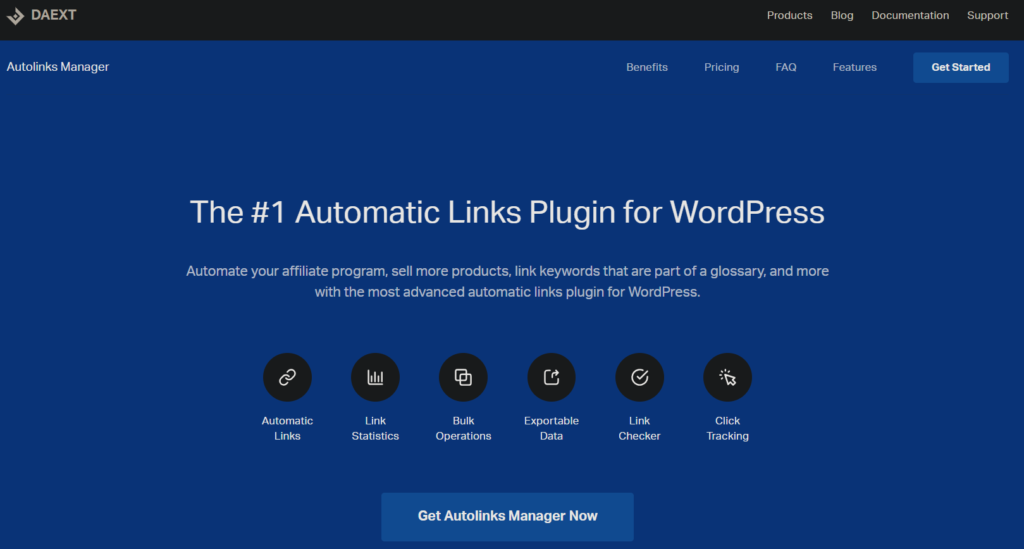 As aforementioned, Autolinks Manager is the easiest way to achieve one thousand new links on your site. It's an invaluable Automatic linking Plugin that took its filters to the next level.
Everyone knows that a good filter means a lot. It's the reason why the right Automatic Link appears on a page and at the same time, at the right place.
Unlike some Automatic Link Plugins that only support internal links, Autolinks Manager accommodates any Link type (be it internal, External, or even Affiliate links).
The Plugin is among a few of them that offer Click Analytics Reporting around the performance of Automatic Links. Also, it's among the fraction of them that supports Autolinks' Categorization.
Indeed, Autolinks Manager is a great tool for Automatic Linking and should appear in your shortlist!
Common features: smart Automatic linking
2. Rank Math SEO as a feature-rich choice for Link Whisper Alternatives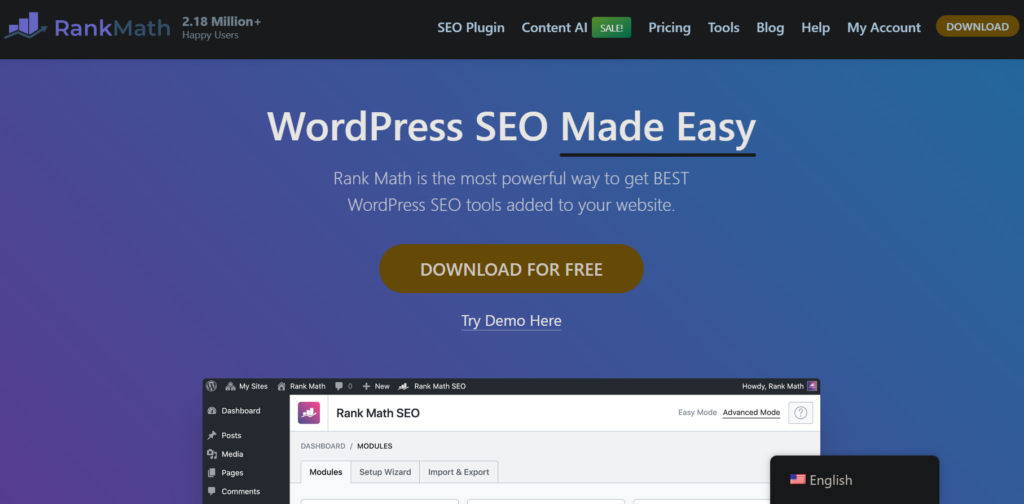 Rank Math is undoubtedly the best SEO Plugin on planet Earth. Check here (Rank Math vs Yoast SEO) to see how it compares with others.
Regardless to say, it is one of the first few Plugins a webmaster deploys and runs on their new website. Whosoever doesn't know about the Plugin is yet to start the SEO game.
It's a requisite WordPress Plugin that makes it easy to keep along with the burden of Search Engine Optimization.
From its intelligent Writing Assistant to technical SEO and you name them, the Plugin is what you need as an all-in-one SEO Plugin.
By appearing in this poor Alternatives section, we don't mean it doesn't live up to a perfect Link Whisper Alternative. Instead, we are trying to convey the idea that it doesn't have a specialization in Internal linking while Link Whisper does.
When comparing the two Plugins, it's not a new thing that Rank Math offers Link suggestion which is the primary feature of Link Whisper. As if that isn't enough, it also included Error Reporting, Redirection Manager in form of the URL changer feature of Link Whisper.
In fact, Rank Math is more than an Alternative and you can use it without even thinking of Link Whisper. But it can't replace Link Whisper's features!
Actually, we use both Plugins on our site, and they work the best in harmony.
Common Features: Link suggestion, Error Reporting (called 404 monitor in Rank Math), Redirection manager (homologous to link Whisper's URL changer)
Summing it up
Running a good Internal Linking Plugin is one of the surefire ways of making an online presence stand out and going smoothly.
One of the common SEO questions I used to hear people ask about internal linking tools is – Can they improve organic ranking? The Answer is YES/NO! However, when you make the best use of any opportunity for Internal link, it would contribute positively to SEO performance.
With this in mind, we won't wait for the father of SEO to address us to take the proper position.
Honestly, deploying a good internal link plugin like Link Whisper or any of its alternatives is one of the good things you can do to yourself.
Earlier in the post, we talked about perfectly matched Link Whisper Alternatives. Therefore, if you're on the hunt for them, do pay close attention and give them a look.
Until then, keep doing Internal Linking the right way!
Recommended: Check our list of the best Internal Linking Tools in the market right now