Internal links are one of the factors that affect SERP rankings. It's one of the first few things to ensure that you have in place before hitting that publish button.
It's so fun and imperative to do internal linking. And at the same time, it can be stressful and time-consuming.
At times, finding out your blog contents that are relevant to your piece of write-up is more of a hassle. This is especially common if you have a network of third-party writers and freelancers.
At that point, you won't be able to acknowledge what they have covered or not. Not only that, Internal Linking is probably very difficult to do.
What of pointing to the same article on every blog post? What if I tell you can do that automatically?
What about leveraging all opportunities for Internal links?
Gone are the days when you need to jump to and fro in the same content looking for potential Internal Linking opportunities.
This introduces us to the concept of Internal Linking tools mostly called Internal Linking Plugins.
What are Internal Linking tools?
As the name implies, Internal Linking tools are Plugins, Softwares or Applications that make the process of attaching internal links easier, faster, and more rewardable.
By easier, I mean – you no longer need to spend a huge amount of effort doing Internal Linking.
As for the term "faster" in the definition, It's clear that tools and software are created to make things easier. In the context of Internal Linking, these Tools can save you 10 hours of work.
Lastly, for the term "rewardable". I mean with Internal Linking tools, you stand a chance to cover up more opportunities, and that can translate to a higher reward in return. This reward is nothing but better rankability and performance on SERPs.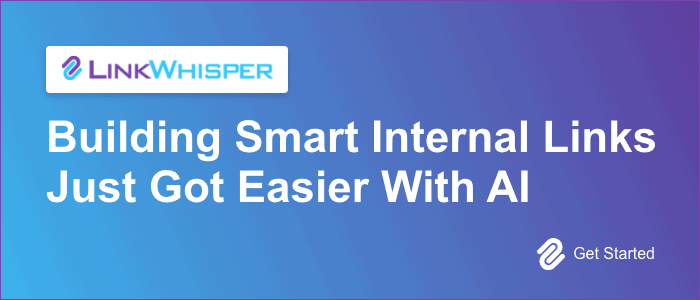 10 of the best Internal Linking Plugins in the market right now
That said, let's round up a list of the best Internal Linking tools in the market and links to their respective marketplaces.
Whether you want to hyperlink a piece of more occurring keywords in your site automatically or need to make the best use of opportunities for Internal Links.
The tools that follow are worthy!
Thankfully, they all have their distinct features and capabilities. And you can choose the one that matches your use case the most.
Enough for the long story! Here are the top 6 (+4) available Internal Linking tools we have used, tested, and reviewed.
Why trust this?
We have spent years using all the Plugins being referenced beneath. As a result, we know what works and what doesn't. This should be your last article to make that decision
Let's now dive deeper and explore each Plugin's features and how they can help you reach your Internal Linking goal.
But before then, here are the terminologies around Internal Linking Plugins. You should be aware of their respective meaning in advance so that you know when we're talking about one thing or the other.
Terms and Terminologies around Internal Linking Tool
1. Outbound Link Suggestions
The Suggestions for Link opportunities as you write on WordPress are what we call Outbound Link Suggestions.
It's a feature that is common between Internal Linking Plugins.
Needless to say, the functionality suggests relevant pages that are worthy to be attached as internal links on the current Page.
We noticed that they are of two forms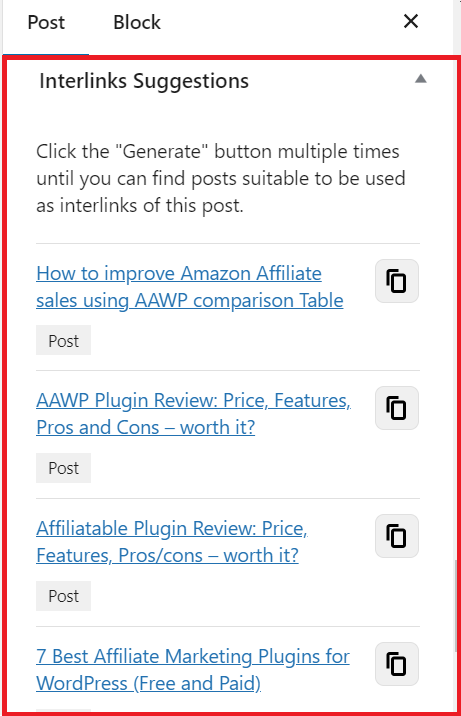 The basic one merely shows you Pages that its algorithm thinks are relevant and helpful.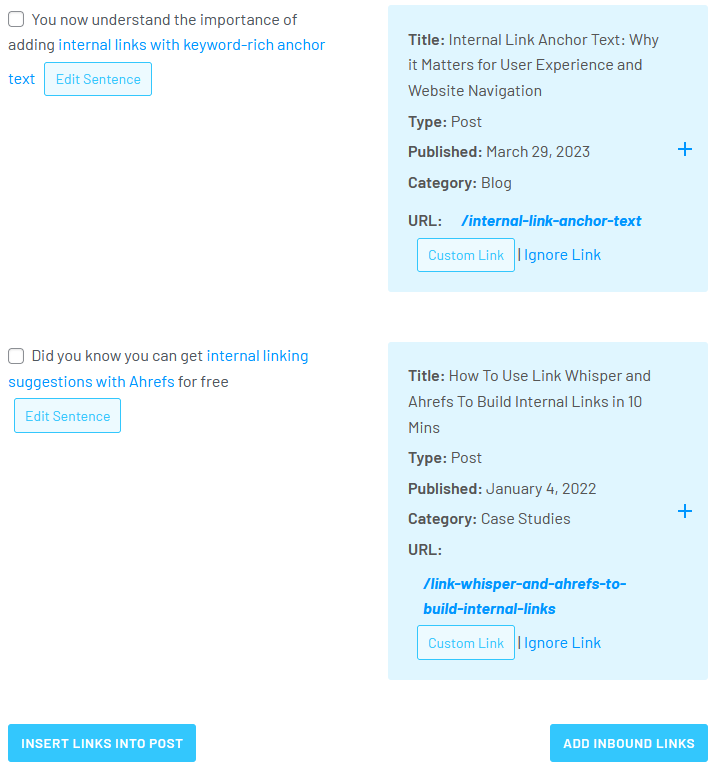 The advanced one (offered by Link Whisper and Linkilo), matches every Link opportunity in your article and then shows you the respective Pages that will go for them.
For example, if you made mention of the Keyword "Rank tracking tools" on your current Page and also have a Post about it. Then the Suggestions will show both the Link opportunities (potential keywords in your Page), alongside the Page(s) that would wear the Keywords/Anchor Text(s).
Keep reading on as we explore other terms around Internal Linking Plugins
2. Inbound Link Suggestions
As the name suggests, it's the recommendation to point to the current Page from potential opportunities in existing Pages. Unlike the formal i.e. Outbound Link Suggestions which enables you to insert internal links in your piece of content, Inbound Link Suggestions on the other hand hunt for opportunities in other Pages from where the new/current Page will be linked from.
This exact feature is currently offered by Link Whisper alone, which is regarded as the best Internal Linking tool.
3. Automatic Linking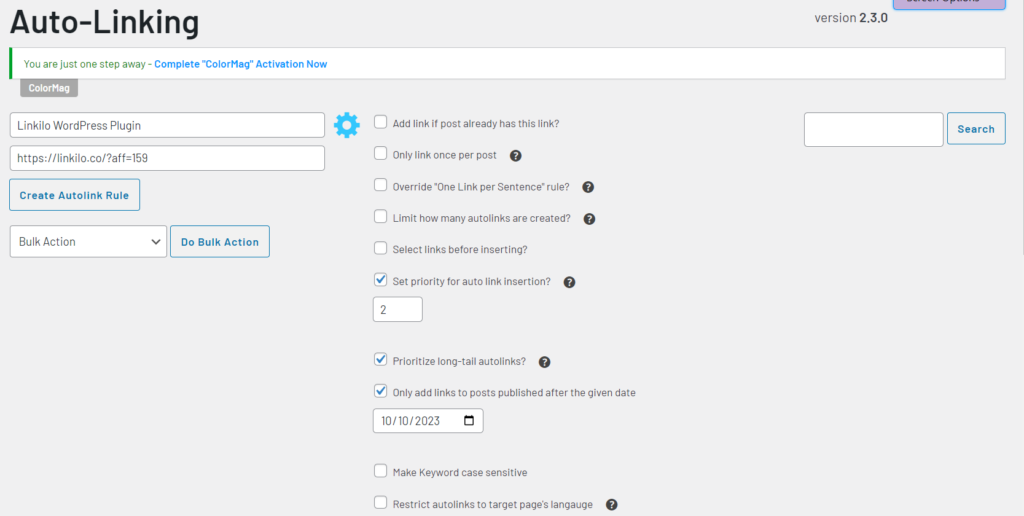 Automatic hyperlinking is the process by which keywords are converted into hyperlinks automatically. It's followed by identifying targeted keywords along with the Links/Pages that will make them Internal Links.
The concept of Automatic Linking has changed throughout the years, and the current results are great.
Here's the good news — There are now Advanced filters in place that regulate where, how, and in what frequency an Automatic Link should follow.
4. Click Analytics
With the right Internal Linking Plugin on your site, you don't need a second Plugin to track the Clicks on Internal Links. It's a valuable feature!
5. Error Reporting
By Error Reporting, you should be smelling anything Errors/mistakes on your site. A good number of the tools in this article have the ability to discern 404 Pages i.e. Broken Links and malfunctioning Internal Links so that you can take your steps to rectify them.
6. Orphan Content Detection
Leaving a Page without an inbound link is likely to happen among webmasters. It doesn't matter how many years you have been doing SEO.
In fact, when you publish a new post; for a while, it won't have any link pointing to it. You have to make edits in your previous articles in order to point to the new one.
Now, the process of detecting such Posts that have no links pointing to them is called Orphan Content detection.
7. Target Keywords
Target Keywords obviously are focus keywords that are used by some Internal Linking tools in delivering Link Suggestions.
The Target Keywords is managed and controlled by the user. You can set up focus Keywords in your content using an SEO Tool (think Rank Math, etc), then the Tools harnesses these information to power its Link suggestions ability.
8. Search and Replace existing Link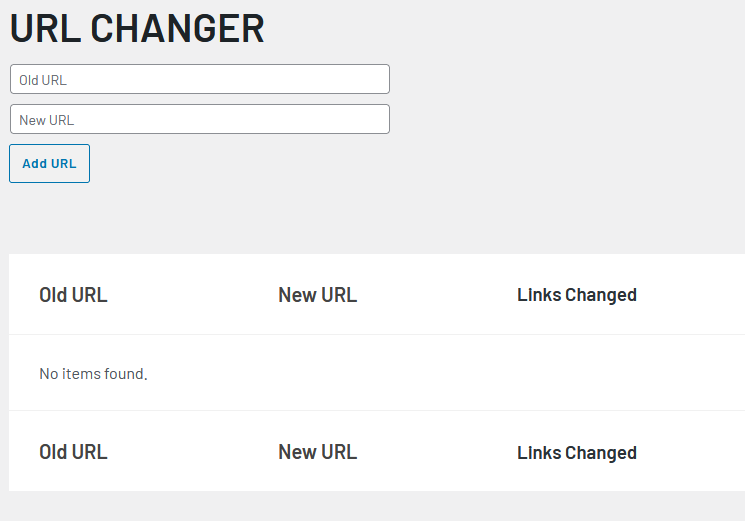 This exact term defines a Plugin that's capable of Searching for the occurrence of certain links on your site and subsequently replacing them with new links. The hack is to provide the new link address with respect to the old link location, and then relax to see the magic happen.
9. Internal Link Reports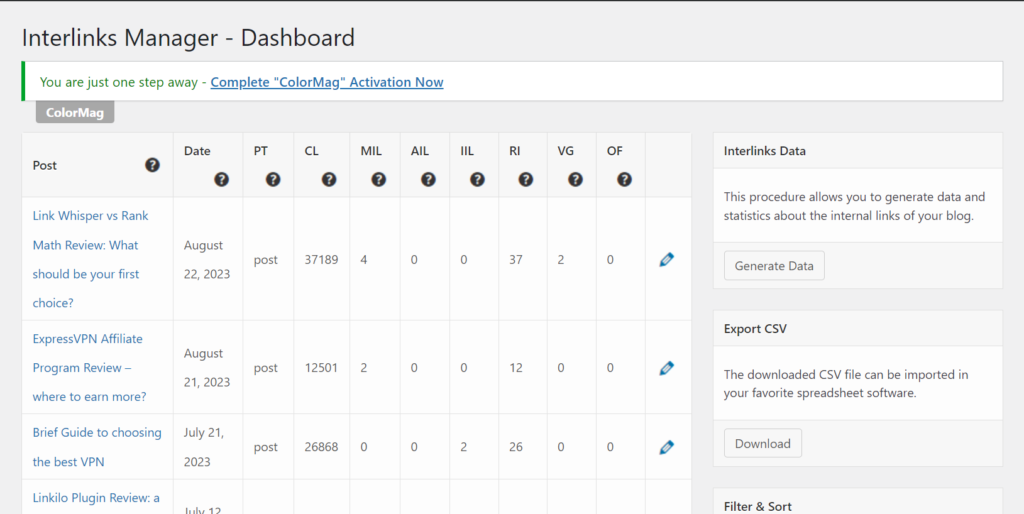 An Interlinking Plugin is expected to provide Internal Links breakdown and Reporting.
As we all know, information is the key and it obviates the guesswork.
From the number of Internal Links on each post to the ratio of the two Link types (Internal and External) to name a few.
Without further ado, let's get to know the top 6 Internal Linking Plugin to supercharge link-building.
Top 7 Internal Linking Plugins to supercharge Link-building
1. Link Whisper: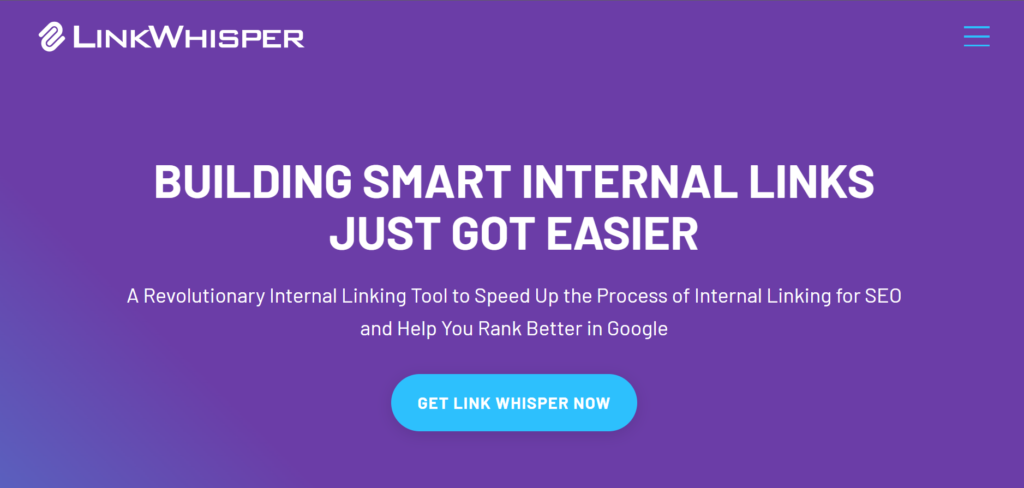 Features: Outbound Link Suggestions, Inbound Link Suggestions, Automatic Linking, Click Analytics, Error Reporting, Orphan Content detection, Target Keywords, Search and Replace existing Link (called URL changer in Link Whisper), Internal Link statistics and reporting
Pricing: Free trial | $77 for Single site, $117 for 3 sites, $167 for 10 sites, $347 for 50 sites
Pros: Time-saving, Stress-free, No room for Errors and broken URLs, Leveraged Opportunity
Cons: Lack of Automatic Link Categorization
After a complete (review of Link Whisper), we discovered it's by far the best Internal Linking tool you can ever get.
It was released by Spencer Haws, the brain behind Niche Pursuits.
The AI fastens the process of internal linking. It accomplishes this by offering a plethora of Internal Linking capabilities.
Right up there, we enlisted its suite of features. And as well, at the beginning of the article, we explained all the features (see it in the Terminologies subheading).
Honestly speaking, Link Whisper is worth it, and for this reason, we swear by it!
One of our most-loved features in the Plugin is the URL changer, it lets you easily change the old links on your site with new ones. This can be seriously handy if you move your page to a new URL.
Another great feature is the Inbound Link Suggestions, others merely display Outbound Link Suggestions, but Link Whisper displays both and at the same time in their most advanced state.
With Link Suggestions, you get intelligent and relevant keyword opportunities in your article which you can convert into Internal Links.
What of the Click tracking functionality that allows you to see the clicks on Internal Links? What about its Error Reporting (that looks up for 404 Pages and broken links)?
We won't forget the ease at which it detects and combats Orphan Content! It's really a great Plugin.
To wow you more, the tool also integrates with Google Search Console. This is one of the ways it collects target Keywords for each Page which it uses for relevant Link Suggestions.
Link Whisper has super features and it's a trade-off between you doing it manually and an AI taking over for a little fee.
As of the time of updating this post, Link Whisper is currently offering a free trial and I think, it's not findable on their site.
Don't miss this!
2. Internal Link Juicer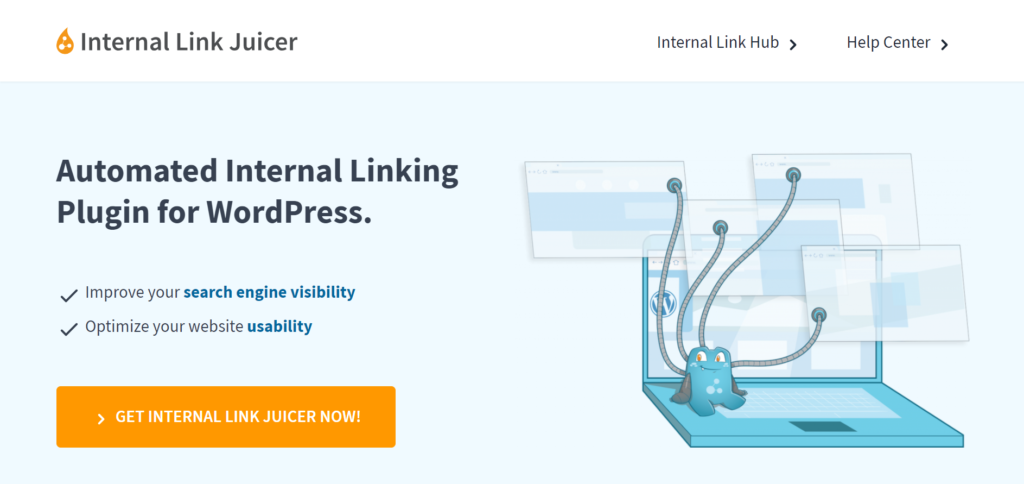 Features: Automatic Linking, Automatic Link Reporting and statistics
Pricing: Single site License for $5.83/mo, 5 sites for $149.99/Yr, 10 sites for $189.99/Yr, Unlimited sites for $109.99/mo
Pros: Time-saving, Stress-free (Automation)
Cons: Merely an Automatic Link Building Plugin
Internal Link Juicer is one of the giant contenders in the aspect of Automatic Linking.
It was developed by Christoph Orth and his team with the aim of automating the process of Link insertion.
Today, the Internal Link Juicer WordPress Plugin is solely based on Automatic Links, their Advanced filters, and their Reporting.
The Primary feature of the Plugin is its Keyword Editor which appears as you write on WordPress. From there, you can set target Keywords in the current Page which will then be used for Link insertion.
Thankfully, the concept of Automatic Linking has changed over time. And with Internal Link Juicer, it's said that we're at the peak of the technology.
Aside from setting up target Keywords, we can also configure settings and advanced filters for the Automatic Linking. Obviously, good filters mean a lot, and it can be the reason why an Automatic Link appears at the right place.
From limiting the amount of Autolinks that should appear on a Page, to the Prioritization of automatically-built links are just the beginning of Intelligent Link insertion.
Others that are worthy of note include: Keyword Gap settings (which basically allows you to set up gaps between targeted keywords in order to gain more coverage), Link Exclusion (which enables us to exclude certain portions of our page for Automatic Linking, think Headlines, certain HTML areas, Tables, Image Captions, List items, and so on)
In brief, the Internal Link Juicer is a great choice in terms of connecting relevant Pages together. It's pocket-friendly, and worthy and has changed the way we do Automatic Linking on one of our sites.
The free version of the Plugin is enough unless you want access to the Advanced settings, filters, and reporting it offers.
3. Interlinks manager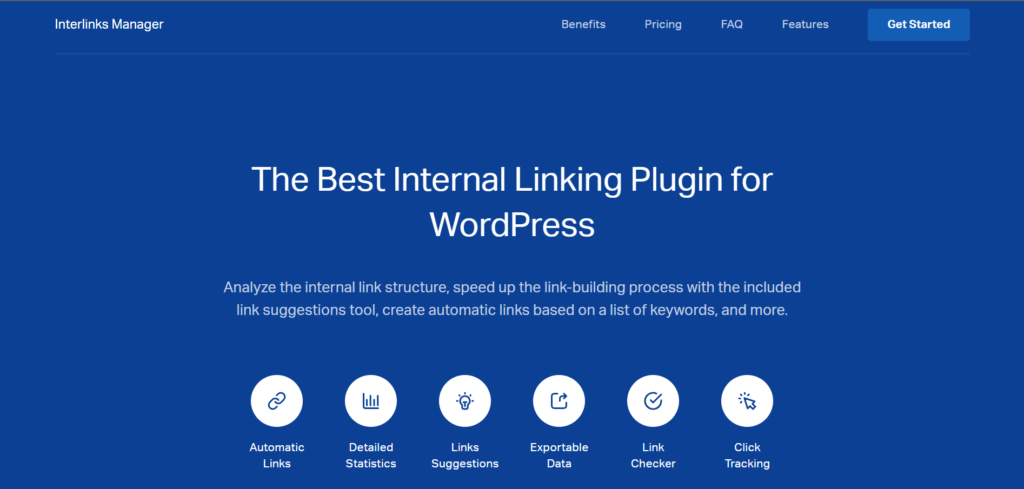 Features: Inbound Link Suggestions (Not useful or fancy), Interlinks Optimization, Automatic Linking (has Categorization and Terms Group), Click Analytics, Orphan Content detection (it's not obvious in the Plugin but can be found in the dashboard at the area labeled "Incoming Internal Link"), Anchor Text optimization (Didn't find anything good on it), There's Error Reporting (called HTTPS status)
Pricing: Regular ($39/Yr), Extended ($195/Yr)
Pros: Time saving, Stress-free, No room for Errors and broken URLs
Cons: Automatic Linking doesn't support External Links, No Search and Replace functionality as seen on Link Whisper
What we have on screen is the Interlinks Manager WordPress Plugin, it's an Internal Linking tool with its own uniqueness.
Developed by DAEXT and marketed on Envato, the Plugin can be gotten at a bargain price by committing to a subscription on the Envato marketplace.
It's an all-in-one Internal Linking tool just like Link Whisper, therefore, it covers a lot of functions. From Automatic Linking, basic Link Suggestion, Click tracking, Broken Link detector, Orphan Content detection, and so forth are the Plugin's suite of features.
At first, the Plugin disappointed us in the Link Suggestions. Unlike Link Whisper which offers the advanced one, i.e. matching potential keyword opportunities with existing Pages that should go for them, the Plugin in question merely shows us the list of Links that its algorithm thinks to be in the same category with our current one.
We took this seriously because Advanced Link Suggestions is the most vital feature which an Internal Linking tool should possess. And so unfortunately, the Interlinks Manager offers the basic one which is somewhat fancy and unusable.
On the positive side of the Plugin, it performs exceptionally well in terms of Automatic Linking, Broken Link Reporting (called HTTPS status code in the Plugin) and Click tracking.
The Plugin also houses advanced Automatic Link settings and filters which makes it stand out from other Internal Linking tools.
Filters such as the Keyword before and After rule are not found in the other Plugins except in Autolinks Manager Pro which is produced by the same company, plus the ability to Categorize the Automatic Links.
Drawing the cotton from here, Interlinks Manager is pretty good, though we're not satisfied with its Link Suggestions. It also doesn't have the cute Search and Replace feature which can be the reason you escaped the 10 hours of work that comes from updating Page's slug.
4. Linkilo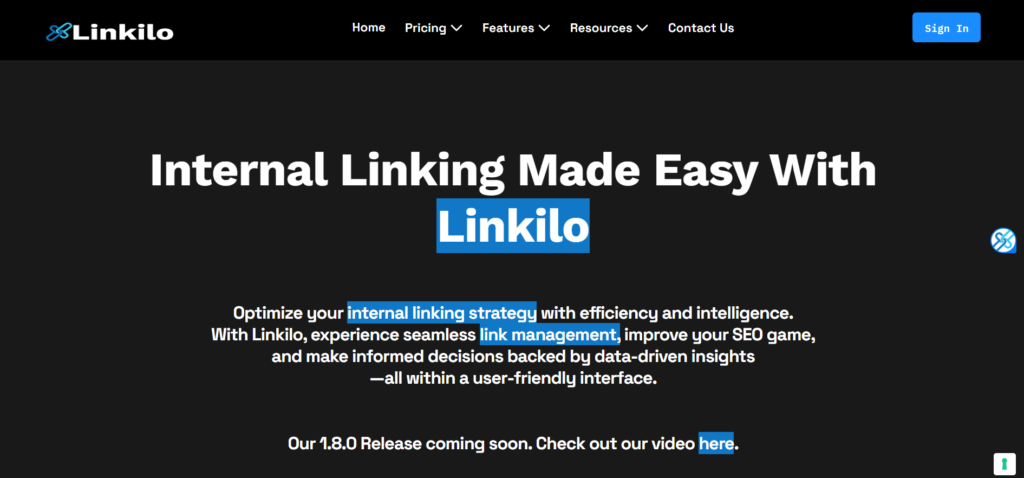 Features: Internal Link statistics and reporting, Outbound Link Suggestion, Target Keywords, Automatic Linking, Keyword/Link cannibalization Report
Pricing: Lifetime version | $59/Yr for Single site, $149/Yr for 5 sites, $279/Yr for 25 sites, $499/Yr for Unlimited sites
Pros: Time-saving, Stress-free, No room for Errors and broken URLs, Leveraged Opportunity
Cons: It's a new tool. Import and Export hasn't even been released, No Broken Link Audit, Natural Language Processing is in development, No URL changer (Search and Replace) as seen in Link Whisper
Linkilo comes out the first in our list of the best Link Whisper Alternatives. It's a copy of the Link Whisper WordPress Plugin.
The Plugin is kind of new in the world of Internal Linking and is striving to offer as many features as possible as seen in Link Whisper.
It has already copied Link Whisper's features down the box. The Link Suggestion feature it offers is exactly like that of Link Whisper. The same applies to its Reporting section and Automatic Linking Page.
Good to hear, the Plugin is also adding slight changes and styles to better stack up against the competition. The Keyword and Link cannibalization feature is exclusive to it and is undoubtedly a useful thing to have in place.
The Keyword/Link cannibalization works all day searching for Anchor text(s) that share different links. As we all know, it's uncool to use the same Anchor text for two different Pages, and Google also frowns at it. So the feature being referenced is invaluable to SEO.
What's more? The Plugin also synchronizes with Google Search Console to know the keywords you're ranking for and to better the Link Suggestion output.
In short, the Plugin should be your next go-to after Link Whisper. Due to the fact that it's basically new to business, it's obvious that it lacks valuable features.
Such amazing features like Search and Replace, Broken Link Audits, and Natural Language Processing found in Link Whisper, are yet to be released in the Plugin.
Thankfully, the uncovered features are already in their roadmap. We are awaiting their release soon!
You know what? The Plugin is still offering its Lifetime deal, and apparently, it will go away this year.
5. Autolinks Manager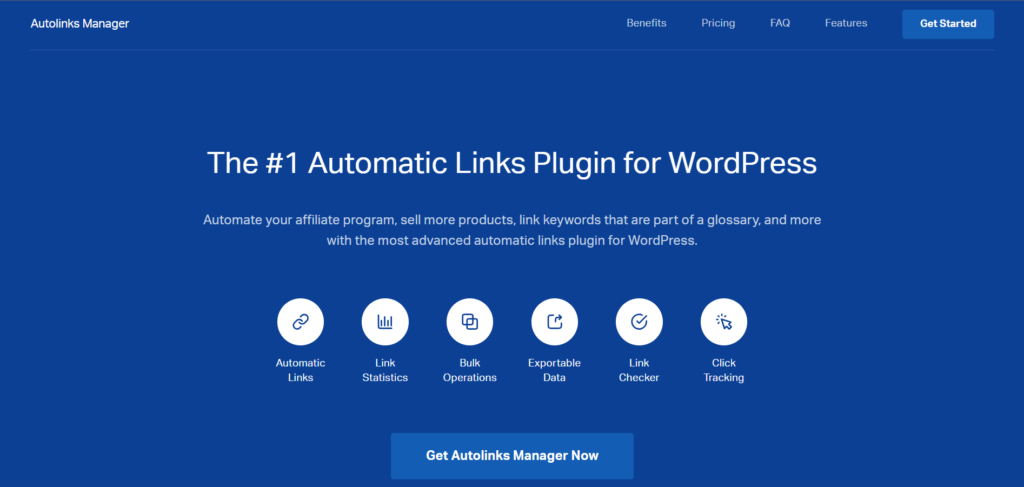 Features: Automatic Linking, Autolinks tracking and Click Analytics
Pricing: $39/Yr for 1 site, $79 for 5 sites, $149 for 25 sites
Pros: Time-saving, Stress-free (Automation)
Cons: No option to detect Autolinks that are broken, Merely an Automatic Linking Plugin
Still incepted by DAEXT, the Autolinks Manager Plugin is a sister product to Interlinks Manager.
They made Interlinks Manager for all things Internal Linking and then, Autolinks Manager for Automatic Link insertion.
Another noteworthy thing is that, while Interlinks Manager does Automatic Linking, it doesn't support External URLs. The Autolinks Manager is built for Autolinking as a result it's in support of both Internal and External URLs.
Mind you, Autolinks Manager doesn't deal with Internal Linking at all. It's a Link Automation Plugin for WordPress.
This Link Automation Plugin is the surefire way to achieve one thousand new links on your site. It's jam-packed with smart filters for the Autolinking job.
What makes it stand out from other Internal Linking Plugins is that, it has a specialization in terms of Automatic Linking and thankfully, it also didn't disappoint.
With its feature called Wizard, you can specify respectively your targeted keywords and the links, and relax back to see the beast do the automation for you.
One of my favorite features of the Plugin is Click tracking, it allows me to monitor the clicks on my Automatic Links.
Overall, the Plugin is powerful and it works greatly in its area of concentration.
6. Linksy
Bonuses: 7) Linkstorm [Not yet tested]| 8) LinkBoss [Pretty new & haven't gotten our Attention] | 9) Autolinking.ai | 10) Rank Math [best WordPress SEO Plugin]
10. Rank Math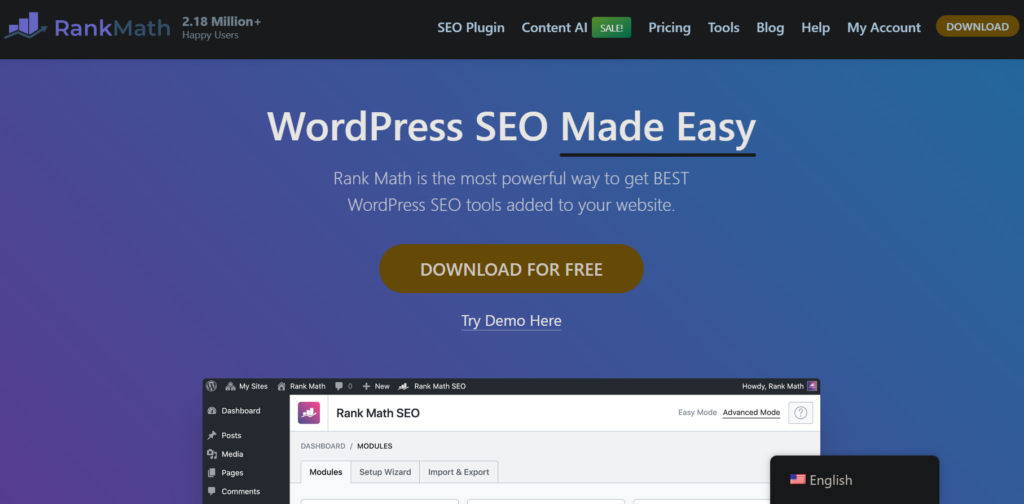 Rank Math is the Swiss army knife of WordPress SEO. It's by far the best Plugin for all things Search Engine Optimization.
In the context of Internal Linking, it's one of the beasts. In fact, we had rolled out a comparison between Link Whisper and the Plugin.
This is to testify that, Rank Math is a precious tool for intelligent Internal Linking.
But why is it at the last position?
Glad you asked! Of a truth, Rank Math is a valuable tool for Internal Linking, but owing to its generalization on SEO, we didn't give it the crown.
Other Plugins that precede all have specialization in Internal/Automatic Linking.
Now for your information, we use both Rank Math and one other Internal Linking tool (it's Link Whisper) on one of our sites, and they work best in harmony.
You can review how Rank Math compares to Link Whisper here.
We almost digressed… back to the topic!
How does Rank Math make a good Internal Linking tool?
Please forgive us, we still recommend you check out the comparison between Link Whisper and Rank Math. That will explode the whole features that Rank Math has for Internal Linking.
Anyway, let's shed some light here!
Regarding Rank Math and Internal Linking. Just at the WordPress editor screen (i.e. Gutenberg), Rank Math offers a writing assistant that makes Internal Linking better.
Also, it offers Link Suggestions (which Link Whisper prides about). The Suggestions work after you mark a page or two as a Pillar content(s).
From then on, Rank Math will start suggesting Links to these Pages. This enables you to make up a good Content hub.
Another Rank Math's feature that it possesses in common with the Internal Linking tools on this page is the 404 Page monitor (called Error Reporting in Link Whisper). Other one is the Redirection manager which is homologous to the URL changer of Link whisper (i.e. Search and Replace feature).
Furthermore, Rank Math has an Internal Link counter which shows the number of Internal Links on each Page (think Internal Link Reporting).
As we can see, Rank Math makes a good Internal Linking tool though it has a generalization in Search Engine Optimization.
Are you using another SEO Plugin other than Rank Math SEO? Check out how Rank Math stacks up among the competition!
Over to you
We couldn't believe it took us this long. It was really an immersive review of all Internal Linking tools.
We appreciate your time and the visit.
Now, that we've finalized the article. It's left for you to make the decision.
Here's the Guide to choosing the right Internal Linking tool
Feeling confused? Use the comments section. We are one hit away!
Until then, keep doing Internal Linking the right way!